Nexus 6 by Motorola benchmark spot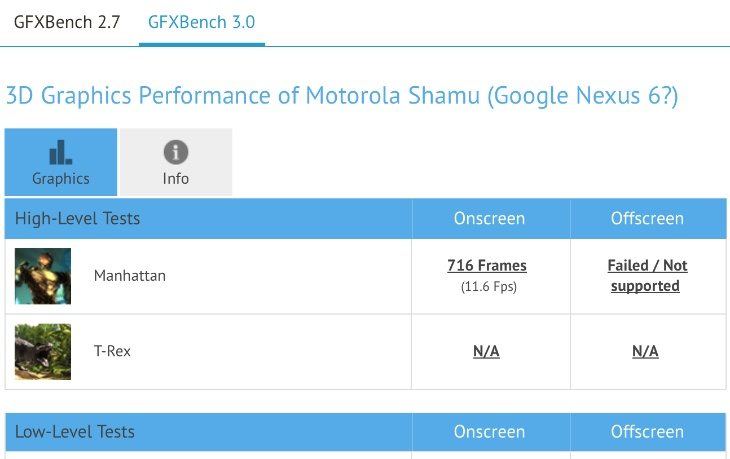 The Google Nexus 6 has been the subject of rumor and discussion for some time. It's a highly anticipated Android smartphone and for some time many people thought it might be made by LG who produced the successful Nexus 5. Recently there was a leak that Motorola may be the manufacturer of the upcoming Nexus handset, and now there has been a Nexus 6 by Motorola benchmark spot.
It was towards the end of July that we reported on a device dubbed the Motorola Shamu and thought to be the Nexus 6. Details were scant but unconfirmed specs included a whopping 5.9-inch display and also a fingerprint scanner. The Shamu had previously shown up in Google's issue tracker. so we do know it's a real device and not a figment of imagination.
Now a device touted as the Motorola Shamu Nexus 6 has shown up on the GFXBenchmark database, further backing up the idea that Motorola could indeed be the maker of the next Nexus smartphone. Google has previously codenamed its future Nexus devices with the names of water creatures, so the Shamu name also ties in as of course this is a very famous killer whale.
The benchmark itself doesn't give away any specs details but the scores tally with those we'd expect to see from a device packing a Snapdragon 801 processor with a Full HD display. It's certainly going to be interesting tracking Nexus 6 developments over the next few weeks, and hopefully it won't be too much longer until we hear something official.
Are you a prospective buyer of a Motorola Nexus 6 running Android L? Let us know with your comments.
Source: GFXBench
Via: Phone Arena