Droid Turbo specs leak show QHD display and Snapdragon 805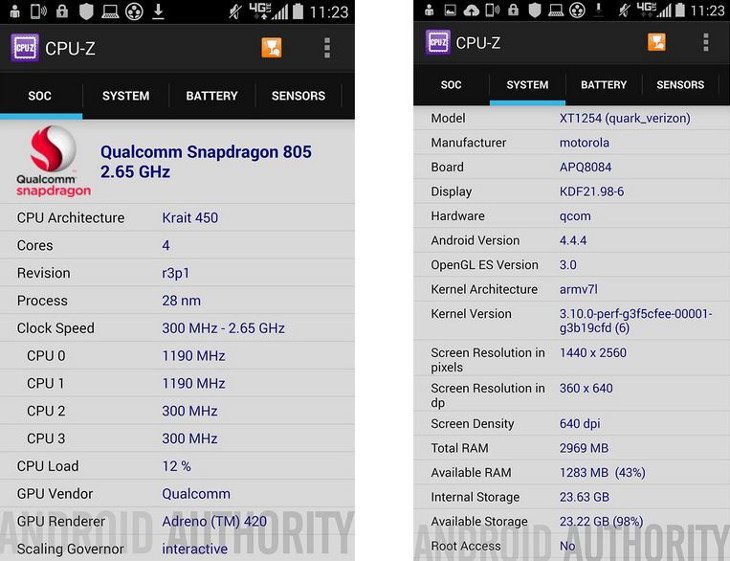 There are a lot of new smartphones headed our way in the next few months, and a very interesting one dubbed the Droid Turbo has caught our eye. It's not your typical handset, but if the Droid Turbo specs pan out, it will be one of the fastest devices on the planet.
A device called the Motorola XT1254 has just gotten benchmarked, and it's being referred to as the Droid Turbo. It won't have the Tegra K1, but the leaked specs sent into Android Authority show a 2.6GHz Snapdragon 805, 32GB of internal storage and 3GB of RAM. Not impressed? Well, you may want to consider the fact that the Droid Turbo is tipped to have a 20MP rear camera and 2MP front-facing snapper.
The most-interesting aspect of the Droid Turbo is its display. The resolution is listed as 2560 x 1440 which is QHD, but the DP is 640 x 360. This means it "should" have a 4.59-inch display which is a lot smaller than the 2K display we've seen in the 5.5 and 6-inch range. It's definitely feasible, just not what we expected to see.
Little else is known about the device at this time, but it appears to actually exist as it showed up in the Bluetooth SIG just a few days ago. Motorola is set to debut a slew of new handsets at IFA in Berlin next month, and the Droid Turbo looks like it may make a surprise appearance. If the Motorola XT1254 lives up to the listing, it will be a hot seller for Big Red when it hits the streets.
Via — Android Authority