iPhone 5S vs. Galaxy S5 gaming with LG G3, OnePlus One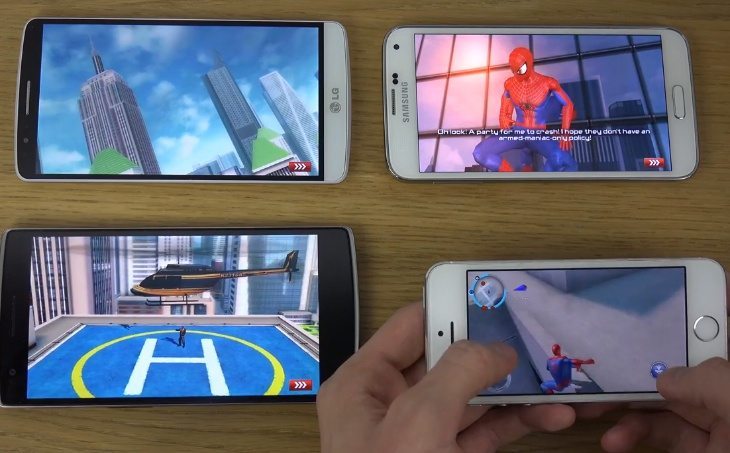 There are plenty of impressive smartphones available and some of those at the top of the tree come from Apple, Samsung, LG and OnePlus. For many of us an increasingly important factor when buying a new phone is its gaming experience. With this in mind we have a selection of videos today that cover iPhone 5S vs. Galaxy S5 gaming with the LG G3 and OnePlus One.
Mobile enthusiasts will know that the iPhone 5S is an Apple iOS device while the other three handsets all run Android. If you enjoy gaming on a mobile device, it can be really interesting to see how the same game compares on different handsets, and that's where the videos that we've embedded below come in. They all come from one of our favorite YouTubers, Adrienisen.
The first YouTube video shows gameplay from GTA San Andreas on the OnePlus One, Apple iPhone 5S, LG G3, and Samsung Galaxy S5. It gives a really good opportunity to compare gaming performance and begins by showing the game being set up on all four devices together, before individual looks at gameplay on each handset.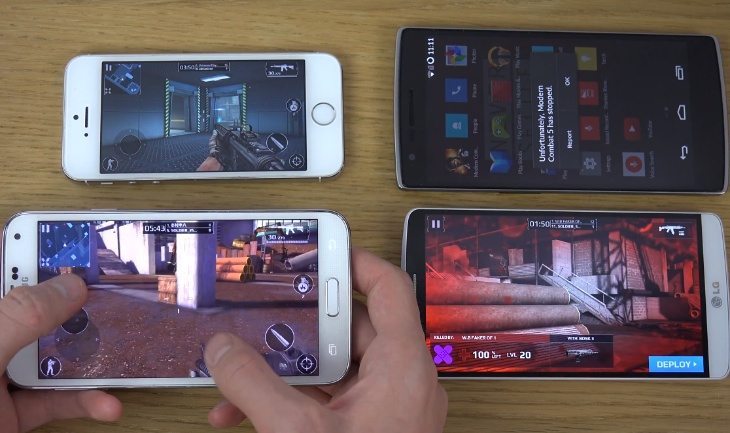 The review makes observations and gives some insight along the way about which of these phones offer a superior experience over the others. We don't want to spoil your enjoyment of the video though as you will enjoy finding this out when you view it.
The second YouTube video shows Modern Combat 5 gameplay on the same four smartphones while the third YouTube video shows The Amazing Spider-Man 2. We found these comparisons to be quite enlightening and hope you find them useful too. You might also be interested in a recent boot up test video showing the LG G3 vs. iPhone 5S and Galaxy S5.
When you've taken at the gaming videos below we'd like to hear your opinions. If you have any of these phones yourself we'd like to know what you think of the gaming performance, so do drop us a comment.