iPhone 6 to have slightly protruding camera lens?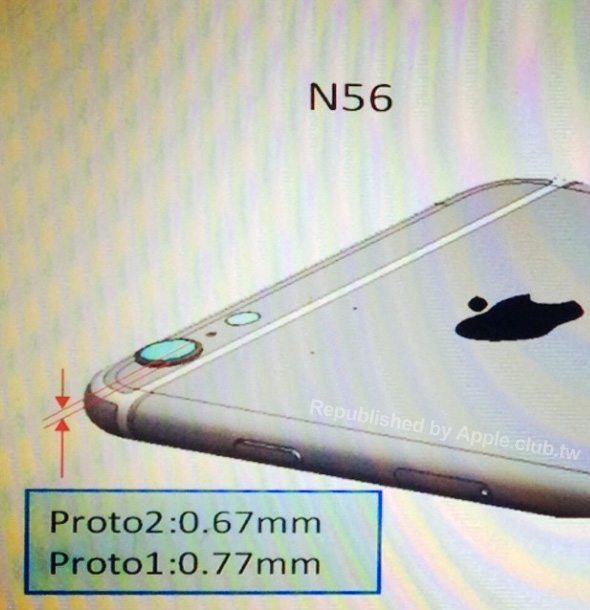 When it comes to Apple and the iPhone, almost every model that the Cupertino-company has announced was thinner and lighter than its predecessor (and sometimes the competition), making this approach almost an obsession for the company. We've recently seen some leaked images claiming to depict the 4.7-inch iPhone 6, after joining the backplate and the front panel for apparently the first time, and, the resulting   device is indeed thin and light. The phone resulting from assembling these two leaked parts allegedly measures 7mm in thickness, which is .6mm thinner than the iPhone 5s, which measured 7.6mm.
Previous rumors have also indicated that the iPhone 6 (generically, without mention of which model, whether the 4.7-inch or the 5.5-inch one) will indeed be thinner and lighter than predecessors and most of the competition, but the leak we're looking at today seems to show off some of the downsides of going thinner and thinner.
What you can see in the image above is claimed to be a render of an iPhone 6 prototype. Whether it's the smaller or the larger one is not known nor specified, but what the image seems to describe is how the camera lens on the back will be protruding from the backplate. There are two measurements pictured, for two separate prototypes (probably stages of development and production), where we can see that the camera lens on the back protrudes.
It's not a big protrusion though, in both prototypes' cases being under 1mm. .77 and .67mm is what the image shows us, and, while some reports could claim that this is Apple's approach to interchangeable lens, it might be a downfall for trying to keep the form factor to its thinnest. The camera system is comprised of lenses, among others, and the iPhone 5s has five-element lens. Even if Apple keeps the same camera construction without adding additional lenses or optical image stabilization, reducing the body of the device itself would mean that a protruding camera on the back is a necessity. We already know that Apple has been using sapphire to cover the lenses, for additional scratch protection, but laying the phone down constantly on its camera on the back will definitely make it prone to scratches, not to mention the instability of the entire phone on a flat surface. It is too early to tell whether this is going to be the real deal or not (though it doesn't sound like Apple), so we'll have to wait for a new batch of leaks, or, at worst, official wording from Apple on September 9.
Source: Apple Club