Apple September 2014 keynote invites set date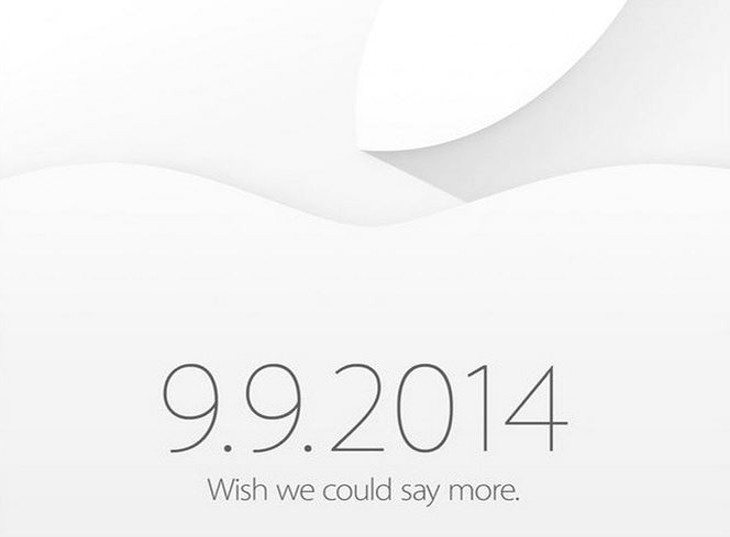 Last night we saw a number of big leaks hit the net, and we didn't think it would be long before the Apple September 2014 keynote invites went out. Well, today is the day, and as you'd expect, the invites don't tell us much.
The Apple September event invites have just rolled out to the press, and they simply show the Apple logo with a date of September 9, 2014 along with the phrase "Wish we could say more." The invites have arrived as expected, and the company obviously knows the world is waiting to find out what they'll unveil. They aren't talking…
Speculation abounds as to what the Apple September invitations will unveil, but it's safe to say we'll see the 4.7-inch iPhone 6 and the 5.5-inch iPhablet. The iWatch is the one device we're all curious about, and recent rumors say it will indeed be shown off alongside the new iPhone 6 models.
Aside from the usual product line refreshes, we don't expect any huge surprises although Apple TV is still rumored to have a nice upgrade in the works. We'd be surprised if the company rolled out the mythical Apple TV gaming box, but stranger things have happened, and Android TV is arriving this fall.
Whether you're excited to see the iPhone 6 or the iWatch, Apple is going to have a little something for everyone at their big event, and September 9th is the day you'll want to mark on your calendar. The event will kick off at the Flint Center at 10AM local time.
Are you glad to finally see the Apple September event invites roll out?