HTC Desire 820 specs reveal 5.5-inch display and 64-bit chip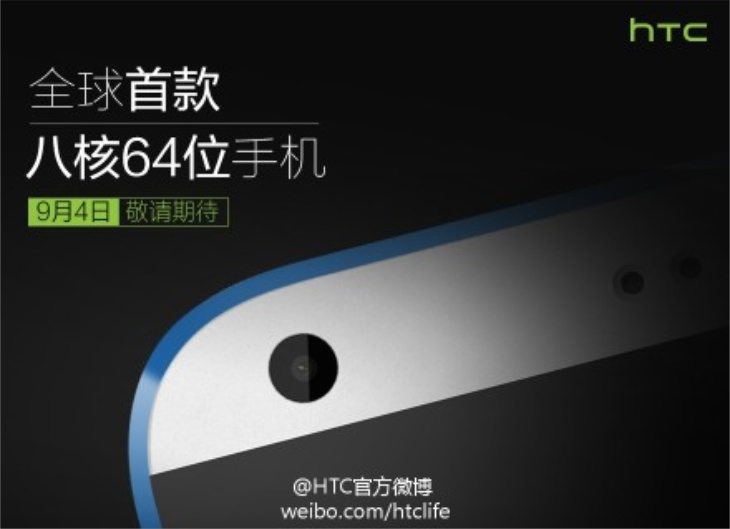 We've heard a lot about the new 64-bit chips headed to handsets in the very near future, and it appears as if one of HTC's new smartphones will carry the fast new processor. The HTC 820 specs have hit the net, and they show a mid-ranger with the new Snapdragon 410.
The gadget leaker known as @upleaks has struck again, and it's another HTC device although it's not a smartwatch or wearable this time around. According to the leak, the A50 will be known as the 820, and HTC 820 specs show an MSM8916 processor which is the 1.2GHz 64-bit Snapdragon 410. We talked about the possibility of the HTC A11 carrying the chip, and if the new leaks is true, it won't be the only smartphone from HTC to have the new processor.
HTC A50 is Desire820. MSM8916 64Bit 1.2GHz, 8GB ROM, 1.5GB RAM, 5.5″ HD, 13MP, 8MP, 2600mAh

– @upleaks (@upleaks) August 29, 2014
As for the rest of the HTC 820 specs, you can look forward to a 5.5-inch display, 1.5GB of RAM and 8GB of storage. The 820 will have a 13MP rear camera, 8MP front-facing shooter and a 2600mAh battery. The resolution is listed as "HD" and overall, the specs are a bit odd as it has great cameras and a new processor, but a low amount of RAM and storage.
The HTC Desire 820 could prove to be a very popular handset, and it's one of fourteen devices the company is rumored to have in the works. We don't have a release date, photo or anything else to go off of at the moment, but we believe the Desire 820 will hit the streets before the end of the year.
Excited to see the 64-bit Snapdragon 410's roll out to new handsets?