Sony Xperia Z3 picture leaks spec sheet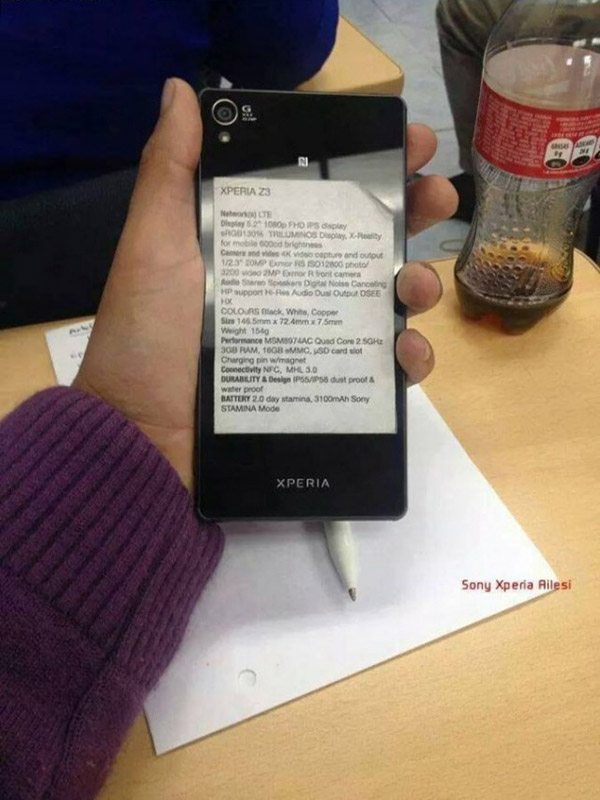 The Sony Xperia Z2 is still considered one of the top Android devices to get, alongside the Samsung Galaxy S5, HTC One M8, and LG G3, and that's even if you don't consider the water and dustproof build. The Japanese phone-maker unveiled the Z2 with the occasion of the Barcelona Mobile World Congress in February of 2014; however, Sony also committed to a new release cycle where the company would announce and release a flagship every six months, meaning two per year. If we take that, and the recent rumors and reports into consideration, the Xperia Z3 (alongside the Xperia Z3 Compact) should make an appearance at this year's International Radio Show (IFA), starting at the end of this week, in Berlin, Germany.
A set of leaked images has surfaced today claiming to depict Sony's next flagship. There are stills purportedly showing off the device from all angles (front, back, and sides), but the most interesting picture is the one attached, of the back of the phone, which appears to have a spec sheet glued to it.
According to what's written on that piece of paper attached to the phone, the Sony Xperia Z3 should feature specifications pretty much in-line with those already powering the Xperia Z2, however, with slight performance improvements. We should expect a 5.2-inch TRILUMINOS display with 1080p resolution, a quad-core Qualcomm Snapdragon 801 chip clocked at 2.5GHz, 3GB of RAM, and 16GB of internal storage that's user expandable with the help of a microSD card.
Additionally, there should be a 20MP (20.7, probably, as on its predecessor) main camera on the back, paired with a 2MP front-facing webcam, 3,100mAh battery, and an IP55/IP58 dust and water proof build.
All these, except for the processor, seem to be the exact same specs as on the Xperia Z2. However, the color options have slightly changed to drop the blue/violet flavor from the Z2, in favor of a copper version, alongside black and white. Compared to the measurements of the Xperia Z2, however, which are 146.8 x 73.3 x 8.2 mm and 163 gr., the Xperia Z3 will improve on those, as the dimensions listed are 146.5mm x 72.4mm x 7.5mm, and 154 gr. (so narrower, thinner, lighter).
We'll have to wait and see if these specs turn out to be true, as Sony's event is just around the corner. However, if this is indeed the Xperia Z3, let us know of your thoughts in the comments below! Also, you can find more stills at the source link.
Source: XperiaBlog
Via: Pocketnow