iOS 8.02 after iPhone 6 update recall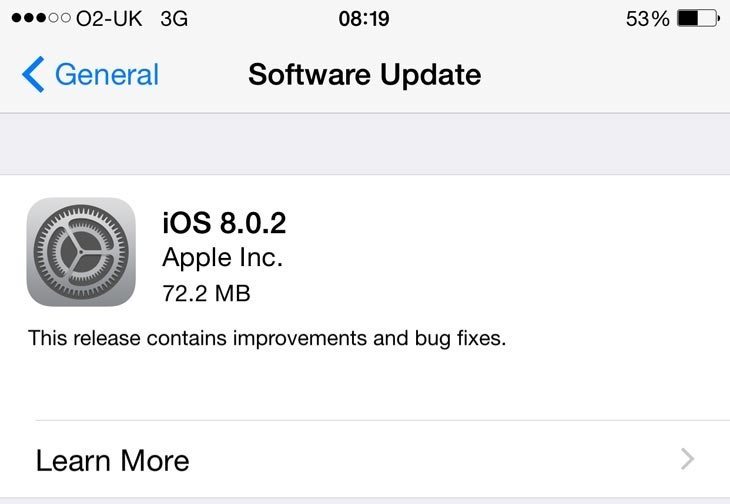 Apple is coming in for a bit of criticism at the moment over the iOS 8 update that released to end users only last week. We have reported several times now about various problems with the update and hoped that iOS 8.01 would resolve the issues. However, this led to further problems that mainly affected the new iPhone. Now we have news of iOS 8.02 after the iPhone 6 update recall.
The iOS 8.01 update containing bug fixes arrived two days ago, but rather than solves various issues it led to more angst among users. Some iPhone 6 owners reported that Touch ID was not working, while others were affected by a signal issue that affected calling. Yesterday we reported that Apple had pulled the update, and following this the company issued some advice to owners whose iPhones had been adversely affected.
At the same time Apple also said that a further software update would be coming in the next few days with a fix. The company has been pretty quick with this, as the new iOS 8.02 update has now arrived. Its' worth noting that Apple claims that less than 40,000 iPhone 6 and iPhone 6 Plus units were affected by the iOS 8.01 bugs (see tweet below), but even if that's accurate it's a significant issue to the owners whose devices were impacted. The iOS 8.02 release notes show a fix for 8.01 with the first line of the changelog reading, "Fixes an issue in iOS 8.0.1 that impacted cellular network connectivity and Touch ID on iPhone 6 and iPhone 6 Plus."
Apple to @CNBCJosh: Less than 40,000 iPhone 6 and iPhone 6 Plus devices were impacted by yesterday's iOS 8.0.1 bugs.

— CNBC Tech (@CNBCtech) September 26, 2014
The iOS 8.02 update is for iPhone and iPad, with the size of the iPhone 6 Plus installation at 72.2MB while for the iPad mini it's 64.1MB. Product Reviews has the full changelog if you want to see more, and also reports that they have downloaded iOS 8.02 on the iPhone 6 Plus and iPad mini today, and so far everything has gone smoothly. However, it's worth bearing in mind that it's early days, and sometimes issues are not immediately noticeable.
This is why we always advise that it can be a good idea to wait for a while after an update releases to avoid any such problems, but let's hope that Apple has got it right this time around and that there's not an iPhone 6 iOS 8.02 update recall. Was your handset affected by problems with iOS 8.01? If you have now received notification of the iOS 8.02 update, have you downloaded it straight away? If so does everything appear to be plain sailing at the moment? Drop us your comments in the box below.