Nexus 6 allegedly pictured alongside LG G3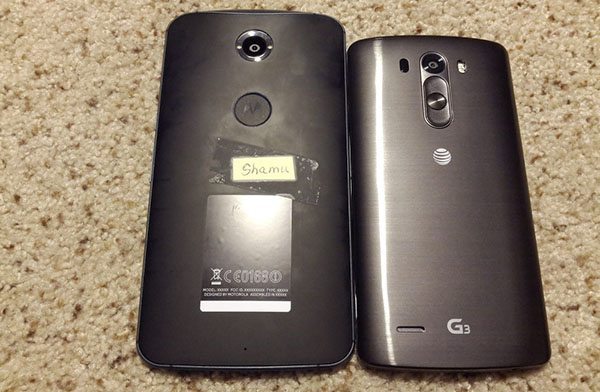 The LG-made Nexus 5 will turn one-year-old this October, and it is due for a refresh. Don't get us wrong, it's not because the phone is becoming sluggish or stale, not at all, but because every October Google announces a new Nexus phone, whether it is at a special event, or just via a press release. The last two Nexus phones (the Nexus 4 and the Nexus 5) have been both made by LG; however, this year, things could change, as there are rumors and reports pointing to Motorola as the preferred OEM. Google has sold Motorola (after purchasing it) to Lenovo. Furthermore, LG executives came on record several times stating that LG has no plans with Google for this year as far as a Nexus phone is concerned. This might, however, change at any moment, but, the consensus on the inter webs is that we should expect a Motorola-made smartphone.
Motorola "Shamu" is, reportedly, the codename for said device, and leaked renders recently tried to show it off, but all they represented was a larger Moto X (maybe another silent confirmation that Motorola will be the maker, judging by the design language, and if the reports will turn out to be true).
The image above allegedly depicts the Motorola "Shamu", aka the Nexus 6, next to an LG G3. First off, we're clearly seeing a phone that appears to be a larger Moto X, and, second, side by side with the LG G3, and compared to it, it lends credence to rumors that have us expecting a 5.9-inch display on the next Nexus (and maybe add legitimacy to the Nexus 6 moniker).
Whatever the case, you have to take this photo, and attached rumors, with the usual drain of salt, as there's no way to verify the veracity of the image. We'll have to wait and see something more concrete, if not official wording.
Putting things into context, the existence of the Nexus 6 is questionable; rumors earlier this year insinuated that Google could kill off the Nexus brand in favor of Android Silver. And, if you weren't confused enough after reading that, there were other reports stating the exact contrary. So, we'll just have to wait and everything should become clear in the next few weeks.
Source: Droid Life
Via: Pocketnow