iPhone 6 battery Vs One M8, LG G3 and OnePlus One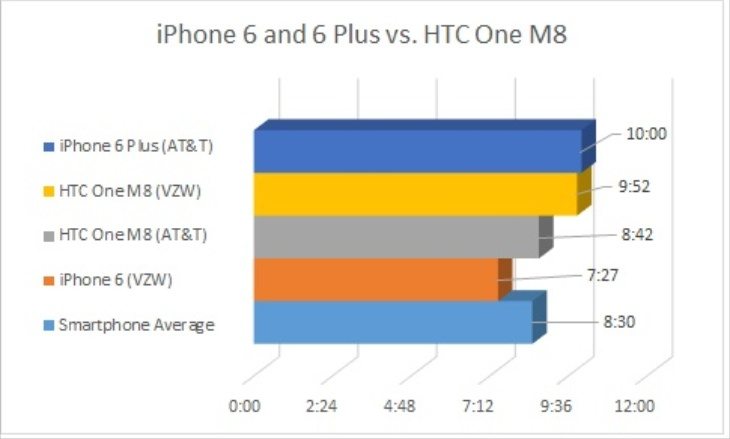 The Apple iPhone 6 and 6 Plus are flying off the shelves despite some teething problems with iOS 8 and also the Bendgate issues. One thing that we often find concerns readers most about iPhones is battery life, and in the past we've covered this extensively. Many were hoping for an increased battery performance with the new iPhones, so today we have news on the iPhone 6 battery vs. One M8, LG G3, OnePlus One and more.
Just after the new iPhones were first announced we reported on battery life of the iPhone 6 and 6 Plus against the existing iPhone 5S. Both offered improvements over the 5S, although the most significant difference was with the 6 Plus. Now the 2014 phones have been put to the test against a variety of Android flagship devices.
In the battery testing, all of the handsets tested had their displays set to 150 nits brightness, fully charged batteries, and notifications, Wi-Fi, Bluetooth and GPS turned off. For consistency the smartphones were only used on Verizon and AT&T networks.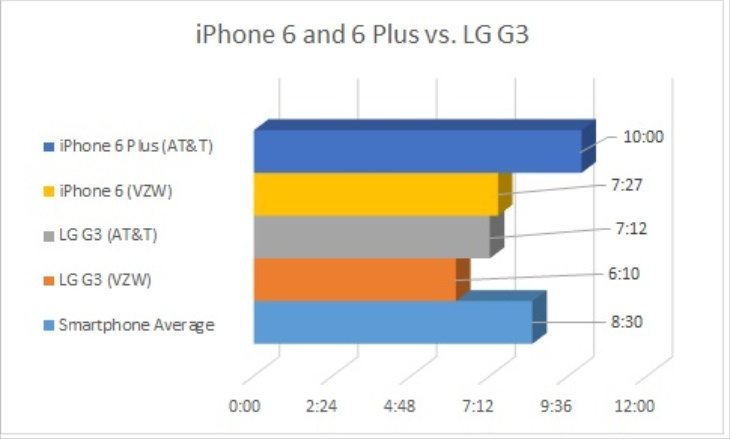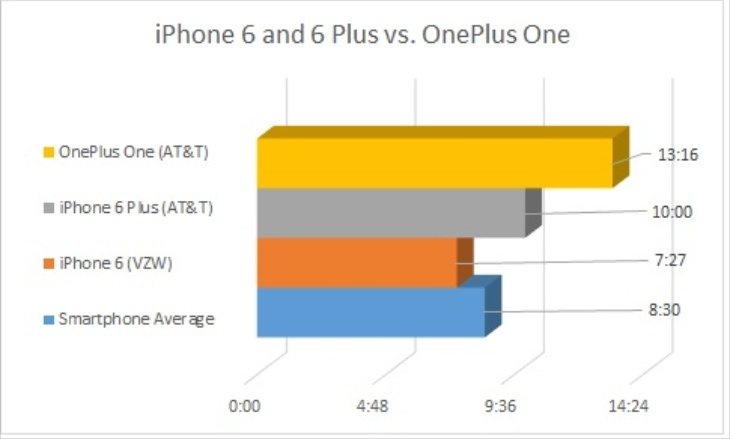 The iPhone 6 Plus on AT&T managed exactly 10 hours in the test while the standard sized iPhone 6 on Verizon achieved a more lowly 7:27. The HTC One M8 came in at 9:52 or 8:42 (VZW and AT&T respectively), while the LG G3 lasted for 7:12 or 6:10 (AT&T and VZW). However, while the larger iPhone beat both the One M8 and G3, the OnePlus One made mincemeat of all of them, running a belting 13.16 on AT&T.
The same test was also conducted on the Samsung Galaxy S5 and Galaxy Note 3 with the S5 managing 9:42 or 8:25 (AT&T or VZW) while the Note 3 achieved 9:57 on Verizon, almost the same as the iPhone 6 Plus. Bearing all of the above in mind the larger iPhone 6 Plus does a pretty good job while the standard iPhone 6 is rather less impressive.
For full details of the testing as well as further chart results head to the source below. Is battery performance on a smartphone one of the most important factors for you when purchasing a new device? What do you think of these results for iPhone 6 battery life? Let us have your comments.
Source: Tom's Guide