iPhone 6 vs HTC One M8, Samsung Galaxy S5 app speed test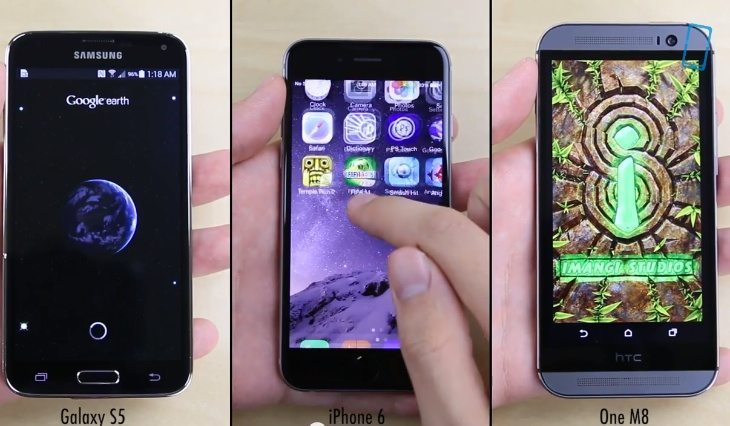 It's always the case that once a new Apple iPhone arrives it's soon put through its paces against various other top smartphones. These kinds of comparisons can be interesting, particularly if you're considering a new smartphone and weighing up your options. Today we have an iPhone 6 vs. HTC One M8 and Samsung Galaxy S5 apps speed test to show you.
We've already written about a battery life test for the above phones and others that you might also be interested in, but for now we're focusing simply on the speeds that these devices can launch apps. The YouTube video that you can view beneath this story comes from PhoneBuff, and has received a mass of hits already.
The video shows the iPhone 6, One M8 and Galaxy S5 being put through their paces with a series of apps that are lined up and ready to go. Just some of these are the camera, web browser, and photos and then others such as Angry Birds, Google Earth, Temple Runs 2, and Photoshop Touch. Subsequently the apps are opened again to check out multi-tasking abilities of the phones.
At the beginning of the video we hear that the reigning app launching speed test champion in previous testing is the HTC One M8, so the iPhone 6 has a tough task ahead. The virtual obstacle course then begins and in the first lap there's a clear winner, but we don't want to give too much away as you might want to find out when you view the video yourself.
The second lap then begins and by the end there's still a clear winner, with the phone in third position ending up a surprisingly long way behind. It's a well-executed test and informative video, and when you've taken a look at it below we'd like to hear your thoughts on the results of this iPhone 6 vs. One M8 vs. Galaxy S5 app launching test? Let us have your comments.