iPhone 6 Plus vs 6, 5s and 5 in benchmark and bootup tests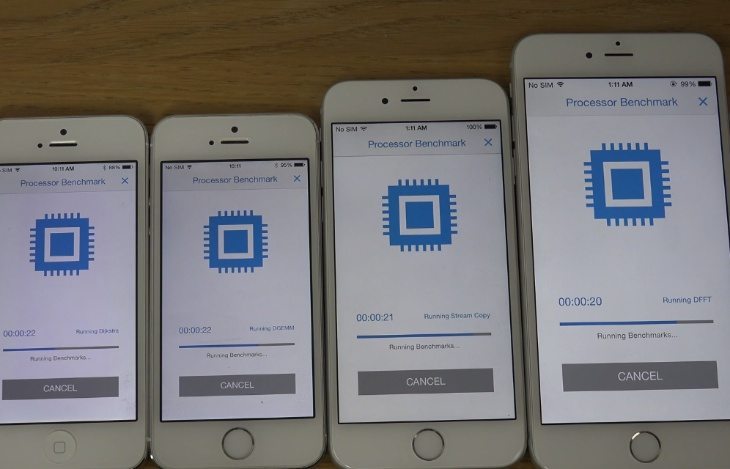 While the new iPhone 6 and 6 Plus are flying off the shelves, there are still many buyers considering whether to purchase one or not. If you're one of those yet to purchase you might be interested in spending some time taking a closer look at the phones, so today we have some iPhone 6 Plus vs. 6, 5s and 5 benchmark and bootup tests.
Regular readers of Phones Review may recall that we recently showed the new iPhones in battery life testing against the iPhone 5s, iPhone 5, iPhone 4S and Google Nexus 5 handsets. Now we're looking at a different type of testing with two videos that come from one of our favourite YouTubers Adrianisen.
The first YouTube video embedded beneath this story shows the new iPhones with the 5S and 5 in a benchmark speed test. When you seen them all lined up at the beginning it's easy to see how different the phablet iPhone 6 Plus is in size compared to the iPhone 5. All of the handsets are shown to be running iOS 8.0.2 and then the Geekbench 3 app test is conducted on them.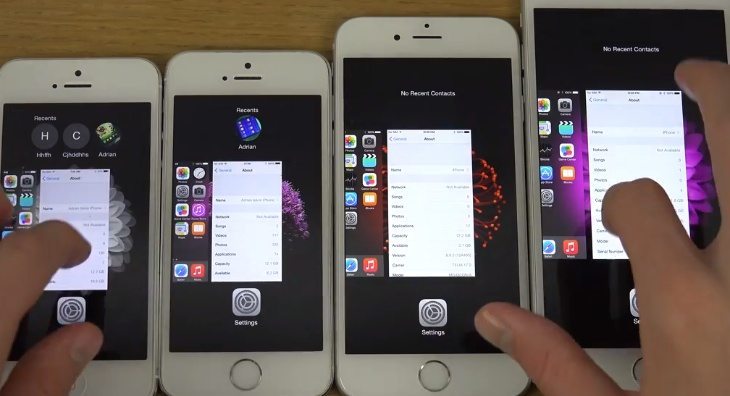 The iPhone 5 is using the Apple A6 processor with the 5S using the A7 chip. The two latest iPhones use the new A8 processor offering further performance improvements. What is surprising considering that it's the oldest, is that the iPhone 5S has more RAM than all the others. Once the test is over you'll see the single-core and multi-core scores. As you would expect the two new iPhones get the best results, with the 6 Plus scoring slightly higher than the standard iPhone 6.
The second YouTube video shows the same four devices in a bootup speed test. All are running iOS 8.0.2 and are first powered off. Then watch as the reviewer tries to find a way to power on all four handsets at once! Once this is achieved you'll then see which boots up first, but this time we're not going to give away what happened next.
When you've watched both of the videos it would be good to hear your thoughts on this iPhone 6 Plus, 6, 5S and 5 speed testing? Please do send us your comments using the box below.