Samsung Galaxy Note 5 render prompts specs expectations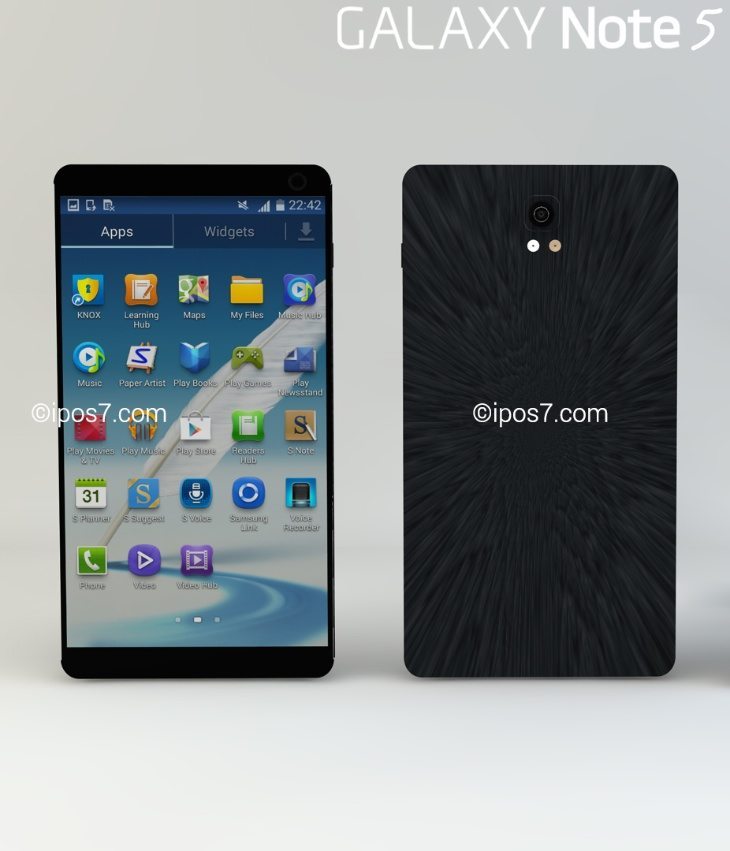 We see many design ideas for upcoming devices, but this one is really jumping the gun. Before the majority of the world has even got its hands on the Samsung Galaxy Note 4, today we're showing you a Samsung Galaxy Note 5 render. What's perhaps more interesting than the design itself is that it has prompted specs expectations for next year's version.
The phablet shown in the image below is a render of the Galaxy Note 5 from iPos7.com. It's a rather uninspiring slab with a somewhat wide appearance (or is that just us?) and an edge-to-edge display, and the other thing that we can see in the picture is a dual tone flash.
The designer also gives ideas for included specs with the Galaxy Note 5, such as an octa-core 64-bit processor, 5.7 to 5.9-inch display (possibly of the Youm flexible variety), 4-5 GB of RAM, and 32 or 64GB models that are expandable via microSD to 128GB.
Other imagined specs are a 21-megapixel rear camera, a 5-6 megapixel front-facing camera, and 4000 mAh battery, and it would possibly run the successor to the Android L operating system. Other ideas are 3D image recording capabilities, wireless charging, and an aluminum body, but of course at this early stage it's anyone's guess.
While we're not over-impressed with this concept design it has led us to wonder ourselves about specs and features for the Galaxy Note 5, and we'd like to hear your input on this. What would you like to see included in the Samsung Galaxy Note 5? Can you think of anything groundbreaking that Samsung could add that would make it a killer device?
Source: iPos7.com
Via: Concept Phones