Samsung Galaxy S6 design is ultraslim and metal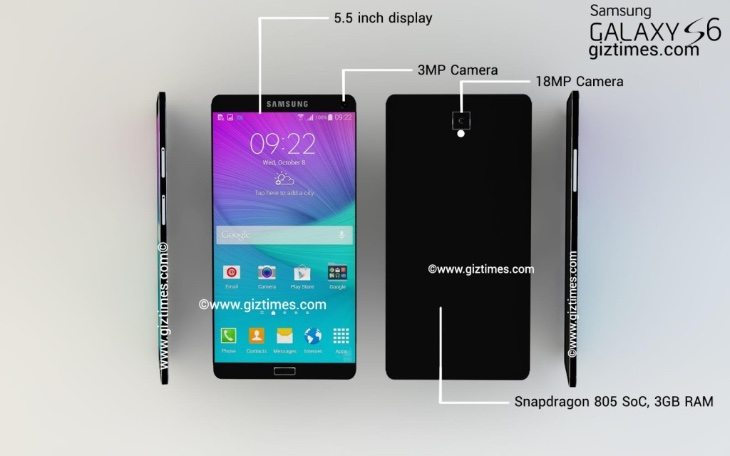 As usual for around this time of year, attention begins to turn to the next flagship Samsung Galaxy S smartphone rather than the current version. The Samsung Galaxy S6 is the next in line and it's fair to say that we've already seen several concept ideas for the phone. Today we're showing a new Samsung Galaxy S6 design that's ultraslim and has a metal frame.
Just a few days ago we reported on Samsung's Project Zero, a codename for next year's Galaxy S6. It's thought that the company is completely revamping the handset, so it's interesting to see this latest concept render that teases us with possibilities such as the metallic body. It comes from Giztimes who have also provided their idea of specs and features for the S6.
These include a Snapdragon 805 processor, a 5.5-inch Super AMOLED display, and 3GB of RAM. It has an 18-megapixel rear camera, a 3-megapixel advanced front-facing snapper, and a 3200 mAh battery. This Galaxy S6 runs the Android 5.0 Lollipop operating system. Features include wireless charging with fast charging technology, and like the Galaxy S5 it will be water-resistant.
Further features are a fingerprint scanner, air gestures, and also a retina scanner. As you can see from the image shown here, this Galaxy S6 render is extremely slim and has a virtually edge-to-edge display. You might like to compare the above specs with the recently rumored specs for the real Galaxy S6 that we reported on here.
Would you like the genuine Samsung Galaxy S6 to release looking anything like this latest concept idea? What do you think of the specs and features for this S6 design? Let us know with your comments.
Source: Giztimes
Via: Concept Phones