The LG G Watch R price is $299 and it's live on Google Play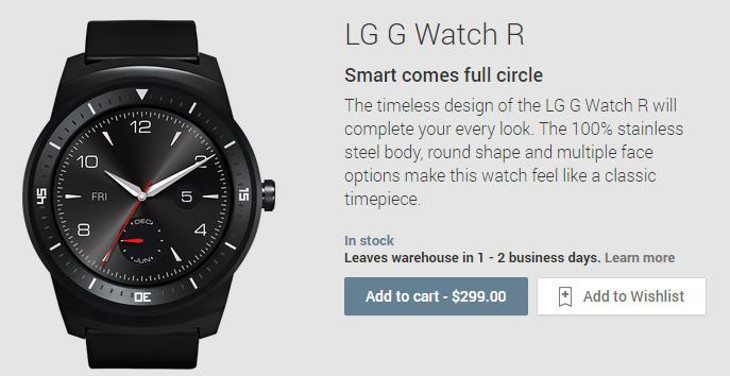 The Moto 360 has had some time to shine in the spotlight, and the LG G Watch has been out for a while as well. If you were waiting for that other round smartwatch to arrive in the US, the wait is over as the LG G Watch price is listed at $299, and it has just gone live in the Play Store.
The Android Wear platform is still in its early stages, but we've already seen a handful of wearables including the LG G Watch R. It is the second "round" smartwatch running AW, and it's the first one that's truly round as the Moto 360 has a sensor across the bottom. Shape aside, it's a great looking watch, and you can now purchase it in the US.
In terms of specs, the LG G Watch R rocks a 1.3-inch P-OLED display with a Snapdragon 400 and 512MB of RAM under its circular display. You'll get 4GB of storage, and a 410mAh battery provides the power. It has a heart rate sensor and you can even get it wet due to the IP67 water & dust resistance rating.
At the time of this writing, Google Play has the LG G Watch in stock and it's listed as shipping in 1-2 days. The LG G Watch price is a bit higher than the Moto 360 at $299, but it's well worth a look if you want a smartwatch that truly looks like a regular time piece.