Microsoft Lumia 535 vs Nokia Lumia 530 specs breakdown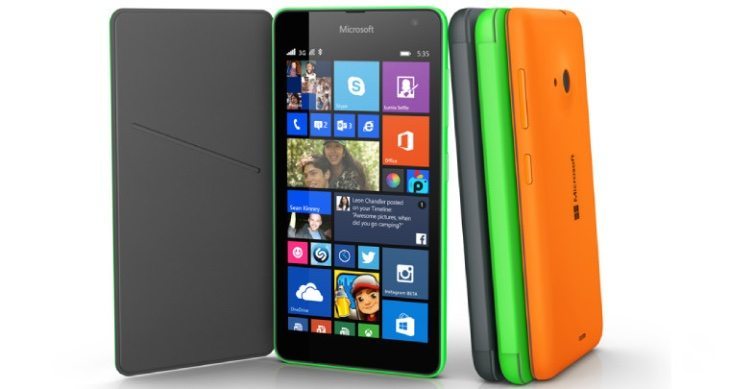 The first Lumia smartphone featuring Microsoft branding was officially unveiled yesterday and it's called the Microsoft Lumia 535. Rather than being a flagship device, the newest Lumia is a budget handset that will compete against the likes of the Lumia 530 that has Nokia branding. We thought we'd offer a Microsoft Lumia 535 vs. Nokia Lumia 530 specs breakdown for readers who might be trying to choose between them.
The Nokia Lumia 530 released back in August whereas the Microsoft Lumia 535 is set to hit shelves later this month. Both handsets come in both single SIM and dual SIM variants and both are Windows Phone devices. By breaking down the specs we hope to show whether it's worth waiting for the Lumia 535 or whether to purchase the Lumia 530 now.
Processors
Both phones are powered by a 1.2GHz Snapdragon 200 quad-core processor with Adreno 302 graphics.
Display
The Microsoft Lumia 535 has a 5-inch IPS LCD display with resolution of 960 x 540 and 220 ppi. The Nokia Lumia 530 has a 4-inch TFT display with resolution of 854 x 480 and 245 ppi.
RAM and Storage
The Lumia 535 has 1GB of RAM and 8GB of internal storage that's expandable via microSD to 128GB. The Lumia 530 has only 512MB of RAM and 4GB of internal memory, also expandable to 128GB.
Camera set-up
The Lumia 535 has a 5-megapixel rear camera with autofocus, LED flash, and 480p video capture, as well as a 5-megapixel front-facing camera. The Lumia has a 5-megapixel rear camera with fixed focus and 480p video recording capability and doesn't have a front-facing unit.
Battery
The Microsoft-branded Lumia has a removable 1905 mAh battery while the Nokia Lumia has a removable 1430 mAh battery.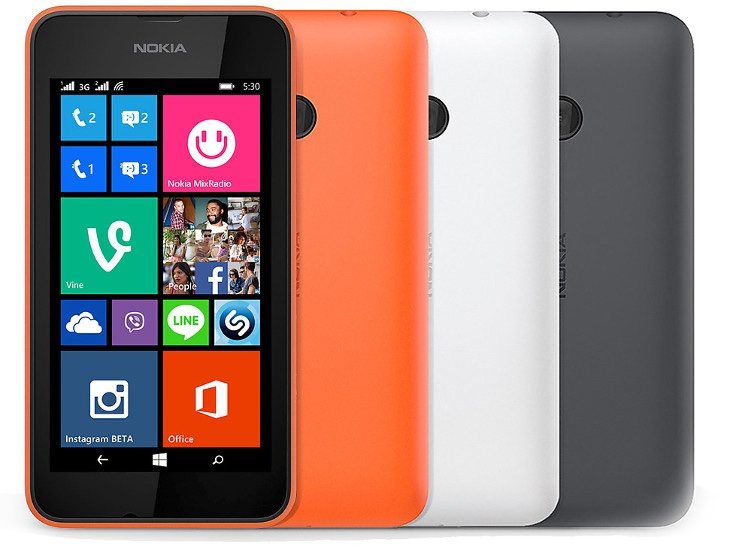 Connectivity
Both phones support 3G, WiFi 802.11 b/g/n and WiFi hotspot, Bluetooth 4.0, GPRS, EDGE and microUSB 2.0. The Lumia 535 also has DLNA.
Operating System
Both phones run Windows Phone 8.1 and the Lumia 535 has the latest Lumia Denim firmware while the Lumia 530 has Lumia Cyan.
Dimensions and Weight
The Lumia 535 measures 140.2mm x 72.4mm x 8.8mm and weighs 146g. The Lumia 530 (pictured above) measures 119.7mm x 62.3mm x 11.7mm and weighs 129g.
Price
The Microsoft Lumia 535 price has been set at around €110 before taxes and subsidies, that's equivalent to around $137, £87 or Rs. 8,400, although prices will vary by market. The Nokia Lumia 530 launched at around €85, equivalent then to around $115, £67 or Rs. 6,900, but again prices vary by region and retailer and can often be found lower.
It's pretty plain to see that if you can afford to pay the extra money to get the newer Microsoft Lumia 535 the difference will be well worth it. It has a larger display with higher resolution, more RAM and internal storage, and better camera capabilities. It also has a higher battery capacity, supports DLNA and is the slimmer of these two handsets.
Meanwhile about the only benefit of the Nokia Lumia 530 is the overall smaller form factor and lighter weight. Therefore we advise buyers to wait for the Lumia 535 from Microsoft instead, especially as the price gap between them is not too great. Once the Lumia 535 has released it will also be interesting to see the first reviews, but for now this looks like the best bet.
Are you about to buy a new smartphone? If so do you think you the small wait and slightly higher price of the Microsoft Lumia 535 makes this the right choice for you rather than the Lumia 530? We're always interested in hearing your comments.