Samsung Galaxy S6 render tries to anticipate the upcoming phone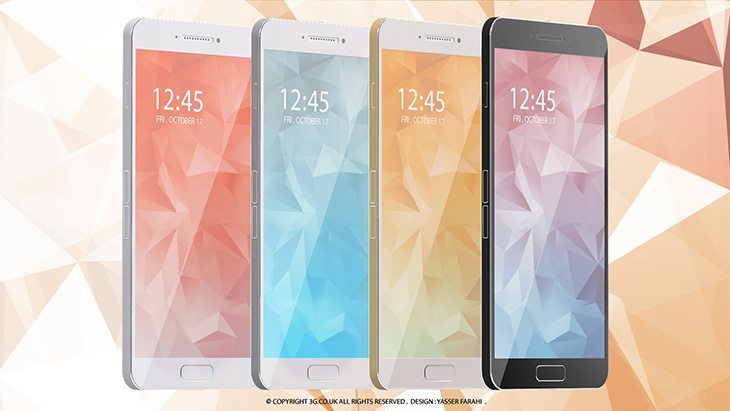 Samsung has been historically unveiling its first flagship of the year — because somehow the Note became the second flagship, over time — the Galaxy S, at the beginning of the year. It was originally unveiled at MWC in Barcelona, after which Samsung move the event away from the Mobile World Congress, just to come back this year for the Galaxy S5. Whether the upcoming Galaxy S6 will be also announced on the show floor, or, at another event, is yet unknown. One thing is certain though: the release is slowly approaching, and we've already started seeing rumors, as well as concept renders.
With the appealing looks of the Galaxy Alpha, many have wondered "how come this is not the Galaxy S5"? Well, Samsung might borrow a lot of the design cues from the Alpha for next year's Galaxy S6, and the concept render we're seeing today emphasises exactly on that.
The phone you're seeing attached is not real. Whether you'd wish it was, or not, let us know in the comments below. Until then, we'll tell you that the phone represented in the image is completely made out of glass and aluminum, with no plastic being used, at least that's what the creators of the concept tell us. This not only lends the phone a premium look and feel, but keeps it thin and light, at 6.7mm and 140g respectively.
Being a unibody phone, the back cover is non-removable; Samsung has been well known (and appreciated), for still allowing the back cover to be removed in order to replace the battery, unlike many of its competitors (Apple, HTC, Sony, to name a few).
As far as the specifications imagined for this device are concerned, they're very futuristic, to say the least. Powering everything is a 64-bit Snapdragon 810 Octa-core processor (four Cortex-A57 and Cortex-A53 cores) with Adreno 430GPU, and the camera on the back is a 20 megapixel unit. 32 and 64GB storage options are available in concept, and the screen is one of 5.2 inches, with QHD resolution. Gold, Silver, White and Black seem to be the proposed colors.
You can see more images at the source link below, where you can also find more information. Meanwhile, let us know what you think of this concept.
Source: 3G.co.uk
Via: PhoneArena