"Clean Android" smartphone and tablet coming from Linshof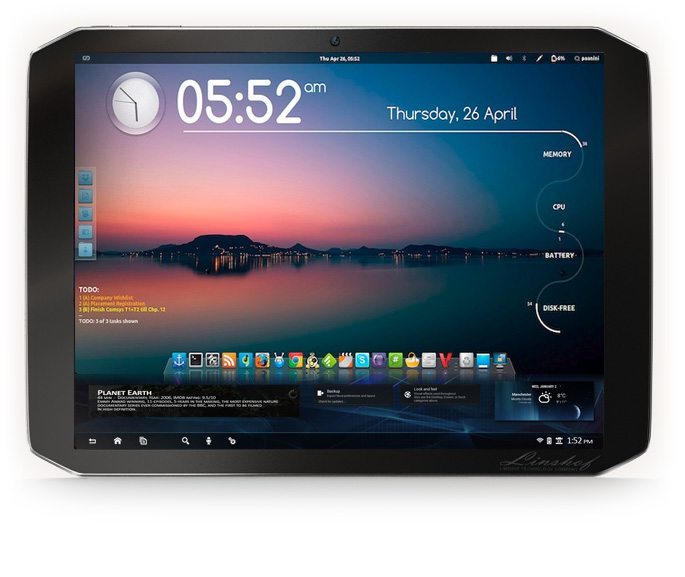 Just a couple of days ago we heard about Linshof, a new smartphone (and tablet) manufacturer from Germany. Their new smartphone, the i8, has respectable specs and the price tag isn't bad either (or won't be, whenever it will become available, as there is no exact release date available at the moment). However, the i8 is just one of the products Linshof is preparing, with another one, a tablet — dubbed Linshof Performance Tablet — is also in the works.
This "Performance Tablet" will be a ten inch slate, sharing much of the specs inside with the i8 smartphone. It will be powered by the same unnamed (yet) octa-core processor clocking at 2.1 GHz, and will pack the same amount of RAM: 3GB. Storage-wise, there will be 80GB of onboard storage (out of which 64GB will be reserved for actual data storage, while the rest of 16GB will operate in a "super-high data rate" chip to decrease boot and app loading times), and the camera duo will also be identical to the one on the i8, meaning we'll see a 13 megapixel main camera on the back, with an 8 megapixel front facing webcam. Once it will become available (much like with the i8 smartphone, a firm release date has not yet been made public), it will sell for $360 (which is actually $20 cheaper than what Linshof will be asking for the i8 smartphone).
Both the phone and the tablet will come with "clean Android" on board, according to clarification received by Android Central from the manufacturer itself. Answering question regarding the existence of Google Play Store on the two devices, a company spokesperson said this: "Yes, we plan to, but we [are ]not there yet. At the moment we do not provide a customer services, we are just completing our manufacturing process and acquiring new factory capacities." As far as the "clean Android" bit is concerned, the company said that there will be "no trial ware, no ads, no unnecessary drivers" on the two devices, just Android (version 5 Lollipop), on top of which Linshof is planning to slap their own custom user interface.
As far as availability goes, the most exact bit refers to end of March 2015 for markets in Asia, as well as online, while future possible customers in the U.S. and Europe will have to wait until June. The manufacturer, however, will be present, and will display its products, at the upcoming MWC in Barcelona in early March of next year.
Source: Linshof
Via: Android Central