The Lenovo Yoga Tablet 2 Pro price and availability announced for India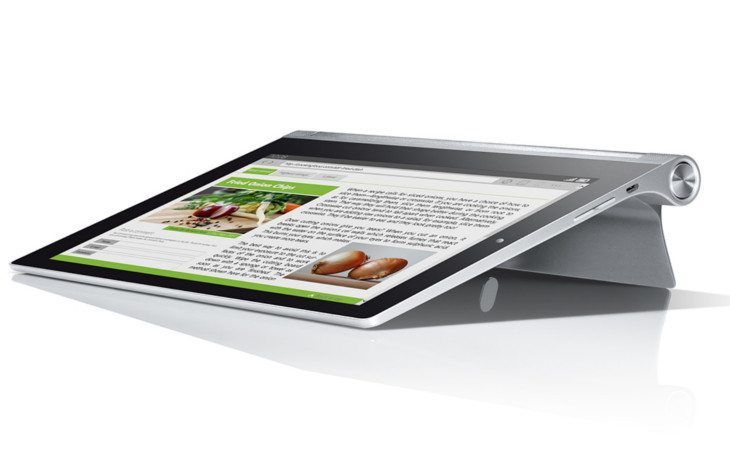 Remember that nutty Lenovo slate with a projector we told you about back in October? Well, the tablet has just touched down in India and the Lenovo Yoga Tablet 2 Pro is ready to roll from Flipkart for the Great Online Shopping Festival of 2014.
The Lenovo Yoga Tablet 2 Pro is one of the more interesting tablets of the year, and if you are familiar with the company's slates, you already know what the "Yoga" lineup is capable of. The Tablet Pro 2 is built so that it can be used in four different positions, and it has a Pico projector to boot. That tiny projector can crank out an image up to 50-inches on the surface of your choosing which is pretty impressive.
The projector and multiple modes are cool, but the Lenovo Yoga Tablet 2 Pro is also powerful. The slate sports a quad-core Intel Atom chip clocked at 1.33GHz and backed by 2GB of RAM. There's 32GB of internal storage which can be expanded, and the cameras are listed as an 8MP/1.6MP combo. Other specs to note include WiFi, Blutooth, 4G LTE, Android KitKat, and a large 9,600mAh battery. Last but not least, is a nice 13.3-inch display with a sharp resolution of 2,560 x 1,440.
It's hard to argue against the power and "cool" factor the Lenovo Yoga Tablet 2 Pro brings to the table, and it is most certainly an option if you want a tablet that can do a little bit of everything. The Yoga Pro 2 will be up for grabs starting on December 10th in India, and is priced at Rs. 49,490 if you'd like to pick one up.
Do you think the specs and Pico projector on the Lenovo Yoga Tablet 2 Pro justify the price tag?