Samsung Galaxy Grand Max and Galaxy A7 leak shows South Korean Launch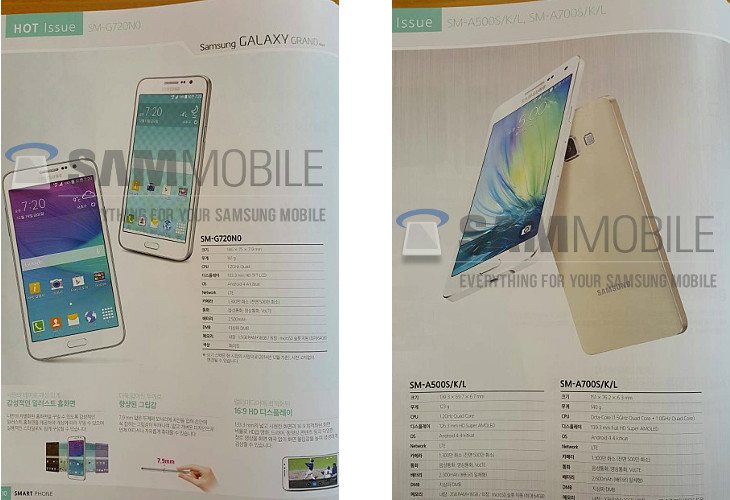 Earlier today we told you about Samsung's plans to scrap the Galaxy Alpha for the A series. Well, one of the more mysterious devices from that lineup has just been spotted alongside an unannounced handset. Get ready to say hello to the Samsung Galaxy Grand Max…
The Samsung Galaxy Grand Max and Samsung Galaxy A7 have been spotted in a magazine, and while we have covered the Galaxy A7 numerous times, this is the first thing we've heard about the Grand Max. With a name like the "Max" you might expect a large handset, but the device will actually sport a 5.2-inch TFT LCD display. The innards scream mid-range as well with a quad-core 1.2GHz chip, 1.5GB of RAM and 16GB of expandable storage. Rounding things out for the Max is a 13MP/5MP camera combo, a 2,500mAh battery, and LTE.
The Samsung Galaxy A7 was also shown in the publication, and it will have the same 5.2-inch display. This one is of FHD Super AMOLED variety, so you can expect deep colors and a top-notch screen. The rest of the specs listed include a 64-bit Snapdragon 615, 2GB of RAM, a 13MP/5MP camera combo and 16GB of expandable internal storage. All the usual bells & whistles are included in terms of connectivity options, and the A7 will have LTE and VoLTE to boot.
The Samsung A5 has already arrived, and it looks like the Samsung A7 will arrive in South Korea soon as well. The Samsung Galaxy Grand Max shouldn't be far behind either, and we expect both smartphones to roll out into other regions in the very near future.
Source: SamMobile