HTC One M9 aka Hima rumored to make a CES appearance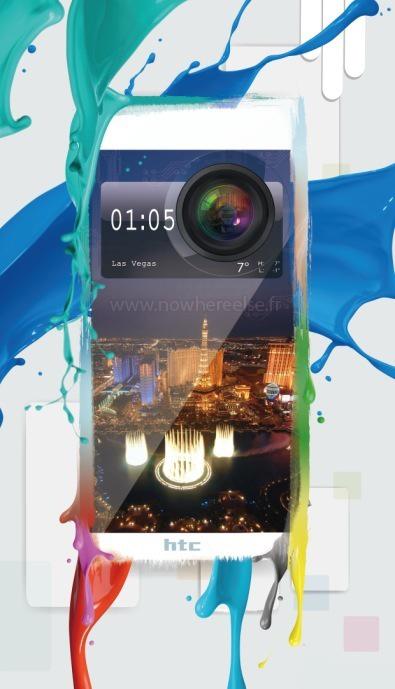 While there's still debate whether the so-called HTC "Hima" will become the HTC One M8's 2015 successor (the HTC One M9) or not, we're hearing more and more rumors and reports concerning the device, which has very few secrets, if these turn out to be true. We've seen information concerning alleged accessories an internals, some of which were even confirmed by leaked benchmark results and details.
Now, a new report from Twitter claims that HTC will introduce the Hima next week at the upcoming Las Vegas Consumer Electronics Show. A picture (attached) is claimed to be the official press invite for the event which will introduce the HTC One M9, but there aren't many details, and the picture itself reveals nothing, while raising a lot of question marks. We tend to be skeptical because the entire picture seems to be non-consistent with HTC's design and visual guidelines, starting with the HTC logo on the device, and ending with the font used to describe Las Vegas (and the time) on the screen of the smartphone pictured.
The time (01:05) could hint to Monday, January 5, as a possible date for the alleged event, so we'll definitely know more next week.
The Consumer Electronics Show, while the first event of the year, is less important than the Mobile World Congress, in terms of smartphones and tablets. We think that the MWC would be a better suited event for HTC to show off such an important device, like the One M9, not to mention that this year, the HTC One M8, was announced at the end of March. If the past is any indication, HTC usually unveils flagships on a yearly basis, around the same date (or at least the same month); because of all that, we're inclined to believe that, on one hand, the press invite we're seeing is a fake, and, on the other hand, it would be too early for an important flagship, especially shown off at an event like the Consumer Electronics Show.
That being said, let us know what you think of this report, and drop us a comment with your thoughts.
Source: Steve Hemmerstoffer (on Twitter)
Via: Pocketnow
More coverage: PhoneArena