New purported Xiaomi Mi5 image shows black version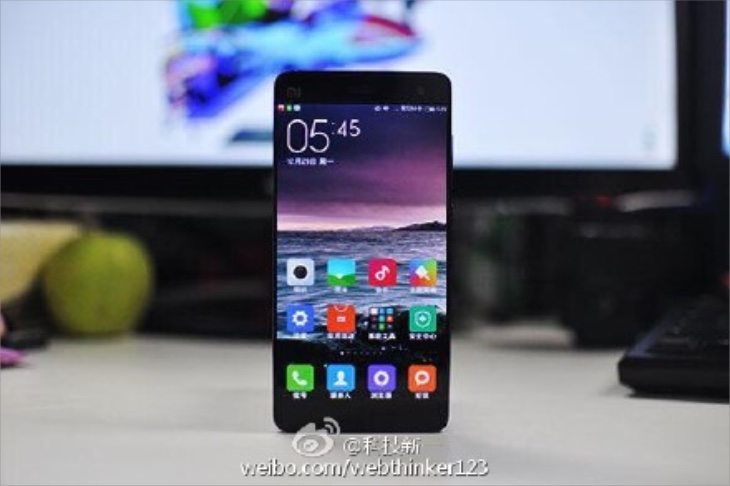 Anticipation is building rather nicely for the Xiaomi Mi5 and considering the success of the Xiaomi Mi4 there are many people waiting to see what it will offer. We've already seen a couple of rounds of leaked images of the upcoming smartphone, and now a new purported Xiaomi Mi5 image appears to show a black version of the handset.
With CES 2015 taking place in Las Vegas in just a few more days, there are a lot of expectations that the Xiaomi Mi5 may be officially unveiled at the event. Hopefully then it won't be too much longer until we can confirm whether this latest image is the real deal or not. In the previous claimed Xiaomi Mi5 images (see here and here) we were shown a very slim handset with virtually no bezels.
From what we can see, the new leaked image does tie in nicely with those previous image leaks so it certainly seems plausible. However, as the handset is in black and the display is lit up it's difficult to pick out the speakers, sensors and logo that would back this up. On balance though, it does seem credible to us that this is a black Xiaomi Mi5.
As far as specs are concerned there have been several murmurings on this score. Unofficial Xiaomi Mi5 specs so far include a Snapdragon 805 processor (or Snapdragon 810 depending on leak), Adreno 430 GPU, a 5.7-inch Quad HD display (resolution of 2560 x 1440), 3GB of RAM, and 4G LTE support. It's also said to have a 20.7-megapixel rear camera, but this should all be confirmed (or not) later this week.
Are you waiting for the Xiaomi Mi5 to go official? Do you like the look of what you've seen in the leaked images so far? Let us have your comments on this upcoming Xiaomi phone.