LG G Flex 2 shown on poster before official CES reveal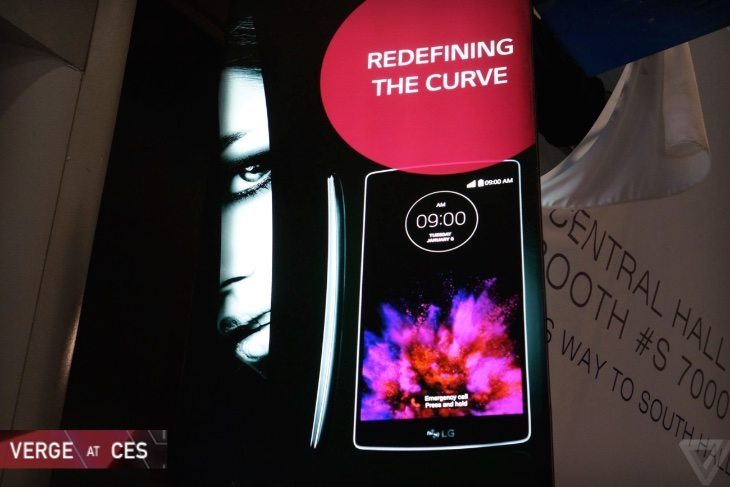 If you are looking forward to the official unveiling of the LG G Flex 2 then you might like to take a look at the image below. The LG G Flex 2 has been shown on a poster before its CES reveal tomorrow in Las Vegas, giving us a further glimpse of the phone before it's formally announced.
Just a few days ago we informed readers about a teaser for the LG G Flex 2, when Qualcomm tweeted that a new device powered by one of its Snapdragon 800 chips would be debuted at CES. The tweet was accompanied by an image showing the reverse of an LG handset thought to be the Flex 2. Now that seems to be beyond doubt, as the new poster that has emerged was spotted on the CES show floor and shows the G Flex 2 curved smartphone.
The general design doesn't appear to have altered much from the original G Flex, and while there's not much news on specs yet, the phone is expected to have notably improved in this respect this time around. While the flexible curved G Flex design didn't exactly take off when it released in 2013, it could be something that quietly grows on people so it will be interesting to see what happens with the G Flex 2.
CES 2015 is officially taking place in Las Vegas and officially runs from January 6 through 9, although some manufacturers will be introducing new devices at press conferences in the days before. It's expected that LG will take the wraps off the G Flex 2 at a press event on January 5 (tomorrow), so there's not too much longer to wait until we should hear official specs and more.
We'll be bringing news from CES 2015 over the next few days, so do check back with us for more on the latest devices to be revealed. What are you hoping for in the way of specs and features for the LG G Flex 2? Is this a phone that might appeal to you?
Source: The Verge