New Sony Xperia Z4 design comes with desirable specs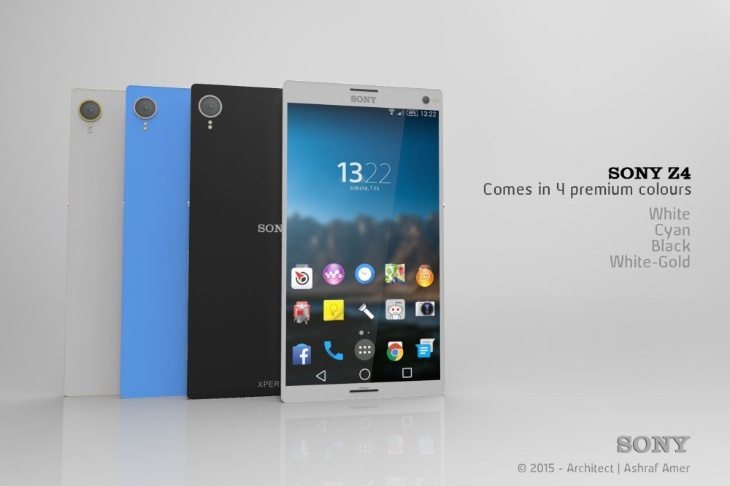 The Sony Xperia Z4 is a hotly anticipated smartphone, and the likelihood is that it will be officially revealed soon. In the meantime we get to drool over designer's visions of the phone and these have been plentiful, although some are better than others! The new Sony Xperia Z4 design that we're showing today comes with some very desirable specs.
Recent leaks about the real Xperia Z4 suggest there will be two variants of the phone, one with a Full HD display and the other for the US having a superior Quad HD display. While that remains unconfirmed at this point, the render that's pictured here sports a 5.4-inch IPS LCD display with Quad HD resolution of 2560 x 1440. It features shatterproof glass, the X-Reality Engine and Triluminos technology.
This Xperia Z4 imagining comes from designer Ashraf Amer and it's exceedingly slim at just 5mm. While that offers a very sleek-looking handset we wonder if this is just TOO thin and delicate, but you'll have your own ideas on that? This Xperia Z4 comes in four different color options, black, cyan, white-gold, or white, and the designer has also come up with an impressive specs sheet.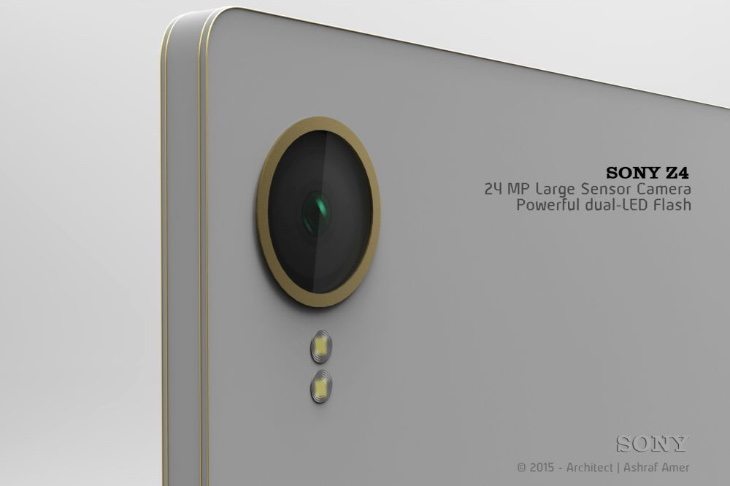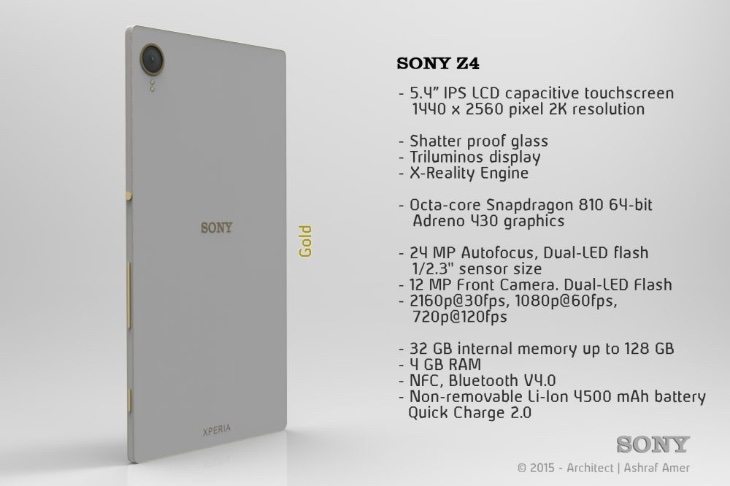 This concept Xperia Z4 packs a Snapdragon 810 octa-core 64-bit processor, Adreno 430 graphics, 4GB of RAM, and 32GB of internal storage that's expandable to 128GB via microSD. There's a 24-megapixel rear camera with autofocus, dual-LED flash, and 1/2.3-inch sensor, and a 12-megapixel front-facing snapper, also with dual LED flash.
Further specs are Bluetooth 4.0, NFC, and a whopping 4500 mAh battery featuring Quick Charge 2.0. We've included some of the images from the source here, and we've also embedded a YouTube video below that shows more. When you've checked it out we'd like to hear your opinions.
What do you think of this latest Sony Xperia Z4 design idea? Would you like the real deal to look like this, and what are your thoughts on the specs lineup? Do let us know by dropping us a comment in the box below.
Source: Ashraf Amer
Via: Concept Phones