iPhone 6 vs Plus, 5S, 5, and 4S in iOS 8.2 beta 4 bootup speeds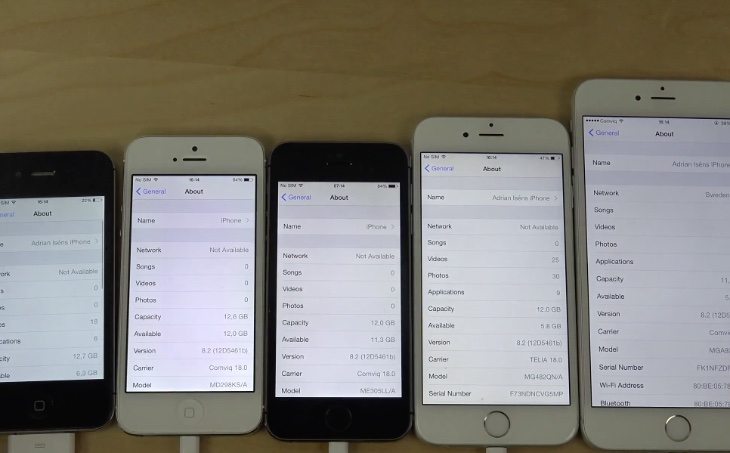 Back in November Apple seeded the first beta of iOS 8.2 to developers. The main focus of this update is WatchKit support with tools to enable devs to ready apps and software for the Apple Watch when it releases. It may also bring overall user experience improvements. We've now reached the beta 4 stage, and today we're sharing a video of the iPhone 6 vs. 6 Plus, 5S, 5 and 4S in an iOS 8.2 beta 4 bootup speed test.
Apple made beta 4 of iOS 8.2 available to developers last week as an over-the-air update, although no date has been set yet for a public release. In fact iOS 8.1.3 with bug fixes is due to arrive first, though this is not thought to include any obvious visual changes. While we wait to hear more on an eventual release of iOS 8.2, you might be interested in the YouTube video that we've embedded below this story.
You'll see the iPhone 6 Plus, iPhone 6, iPhone 5S, 5 and 4S lined up alongside each other, and we are shown in Settings that they are indeed all running iOS 8.2 beta 4. iOS 8.2 will not be compatible with iPhones before the iPhone 4S. As well as the phones listed above it's also compatible with many iPads as well as the iPod touch 5th generation.
All of the handsets are then turned off and once they have all powered down they are simultaneously powered up again to see which is ready for action first. We won't give away the results here, as you might prefer to find out when you view the video below. It's safe to say that the outcome isn't too surprising, but nevertheless the informal speed test is a nice diversion while we wait for more iOS 8 news.
We'll be sure to bring you more on that as we hear it, and in the meantime feel free to send us your comments about the iOS 8.2 beta 4 bootup speed test on the iPhone 6 and others.