iPhone 6 Plus vs 6, 5S, 5C, 5, 4S iOS browser, Internet tests on iOS 8.1.3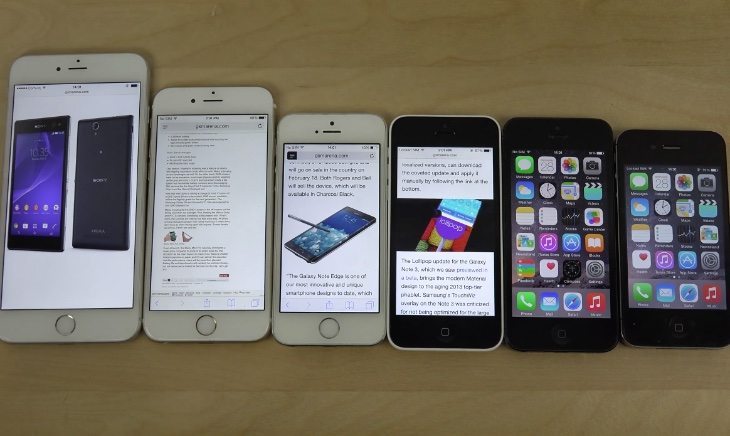 If you have an Apple iOS device you're likely to be aware that iOS 8.1.3 was released to the public last week. This update concentrates on bug fixes for various issues, although some problems are still being reported. It's can be good to see devices running the same new iOS tested against each other, so today we have two videos to share that show iPhone 6 Plus vs. iPhone 6, 5S, 5C, 5 and 4S browser and Internet tests on iOS 8.1.3.
Last week we shared comparison tests of this lineup of iPhones all running the new iOS 8.1.3 in bootup speed and AnTuTu benchmark testing. The same handsets are now shown in the two videos that you can see below this article. The first YouTube video shows the iPhone 6 Plus vs. 6, 5S, 5C, 5 and 4S alongside each other and focuses on browser performance. The video begins by showing that all the iPhones are running iOS 8.1.3.
The comparison continues with the reviewer checking out the browser experience on the oldest among them, the iPhone 4S. This gets a positive response as the browser works smoothly despite the age of this device, without any major problems apparent. The other handsets are then put through their paces in a similar way, finally getting to the iPhone 6 and 6 Plus, with the reviewer offering some interesting insight about browser performance on all of these devices along the way.
The second YouTube video below shows the same set of handsets but this time the emphasis is on Internet speed. The Ookla speedtest app is shown being used on all of the handsets to show how the Internet speeds compare. You can then see the upload and download speeds attained displayed on each iPhone. What's noticeable here is the massive difference between the iPhone 4S and 5, far more than the differences between the iPhone 5 and later iPhones.
For download speeds the winner is the iPhone 6 and you may be surprised to see which phone got second spot. We won't give that away here as you might enjoy finding out when you watch the video. For upload speeds there's a different winner, but again we don't want to give away the results. When you've viewed the videos beneath this post we'd welcome your comments. Do any of the results of this browser and Internet speed testing on the iPhone 6 Plus and others surprise you?