Samsung Galaxy S Pro 2 design has extreme specs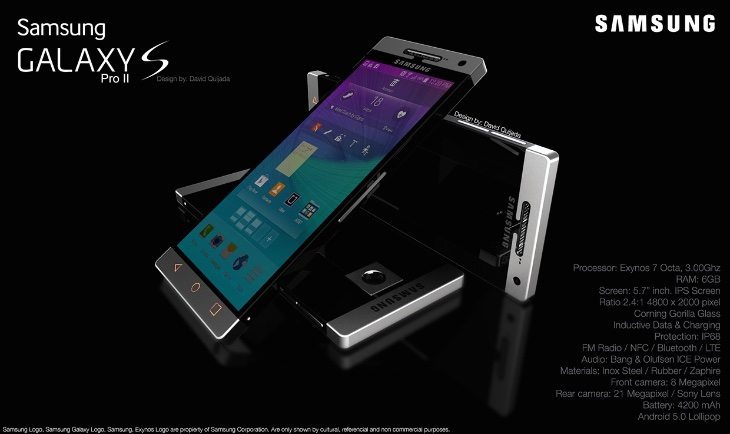 If you're a fan of Samsung smartphones but want something a little different that would really get noticed, you might want to take a look at this design that we're sharing today. This is a Samsung Galaxy S Pro 2 with extreme specs, and we have a feeling that many people would like to get their hands on this device. Sadly it's a concept only, but we'd like to know if you'd like Samsung to come up with something similar to this.
This Galaxy S Pro 2 vision comes from designer David Quijada who has previously created some impressive concept ideas. For example you can check out his earlier Sony Xperia O design or an LG Chocolate reinvention at the links. Now he has turned his attention to a Samsung handset, and this is one that really means business.
As you can see from the image this is an extremely classy looking phone featuring Inox steel, rubber and sapphire materials that make it look very stylish. The designer has also come up with imagined specs for this device that even he describes as "extreme," so get ready to hold on to your hats! This phone would have a 3GHz Exynos 7 octa-core processor, a 5.7-inch IPS display with resolution of 4800 x 2000, and 6GB of RAM!
Further specs include a 21-megapixel rear camera with Sony Lens, an 8-megapixel front-facing camera, and 4200 mAh battery. It runs Android 5.0 Lollipop and further features include Bang & Olufsen acoustics, FM radio, LTE connectivity, NFC, and Bluetooth. This handset is also dust and waterproof to IP68 certification standard, and it features inductive data and charging.
Okay, so some of these specs are a bit way-out but can you imagine the demand if Samsung was to produce something anything close to this design. Is this Samsung Galaxy S Pro 2 the kind of handset you'd like to see come to fruition, perhaps with some more realistic specs for now? Let us know with your comments.
Source: David Quijada (Behance)
Via: Concept Phones