Samsung Galaxy S6 Edge gets Benchmarked at AnTuTu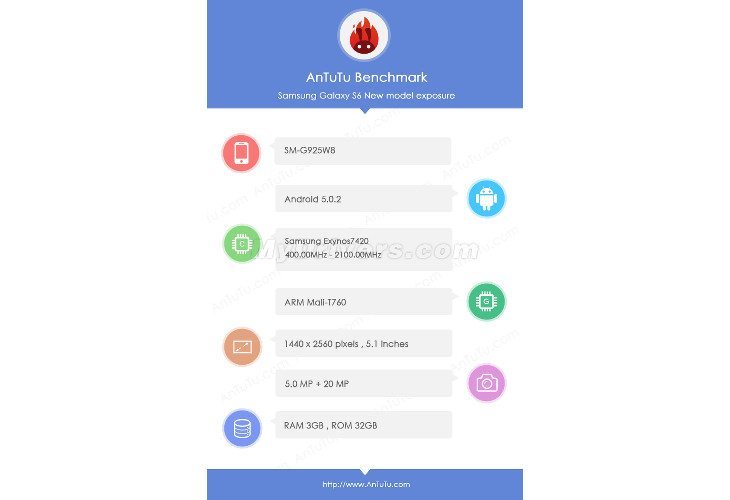 The world is still spinning today, and Samsung Galaxy S6 rumors and leaks are still pouring in. We have covered the specs countless times ahead of the official launch next month, but today we possibly got some proof thanks to some new Samsung Galaxy S6 Edge benchmarks.
The device shown in the AnTuTu benchmarks carries the model number SM-G925W8 and is listed as Samsung Galaxy S6 New model exposure. The model number coincides with the Galaxy S6 Edge leak yesterday which brought theSM-G925X, SM-G925F and SM-G925FQ into the spotlight. If these Samsung Galaxy S6 benchmarks are legit, it's safe to say they are for the Samsung Galaxy S Edge or Galaxy S6 Edge… whatever they choose to call it.
As for the listing, the Galaxy S6 Edge specs show a 5.1-inch panel with that 2,560 x 1,440 resolution everyone has been waiting on. Those Qualcomm chip rumors are seemingly confirmed as well (for this model at least) as this Galaxy S6 Edge sports one of the new octa-core Exynos 7420 chips. The GPU is listed as an ARM Mail-T760, and you'll find 3GB of RAM and 32GB of storage under the hood.
Aside from the actual (awesome) benchmark score of 60,978, the other component you'll want to pay attention to is the camera. Many rumors pointed towards an improved sensor for the Galaxy S6 and its edged variant — these benchmarks show just that with a 20MP sensor on the back and a 5MP snapper on the front. That would certainly a nice bump up from the 16MP/2MP combo found on the Galaxy S5.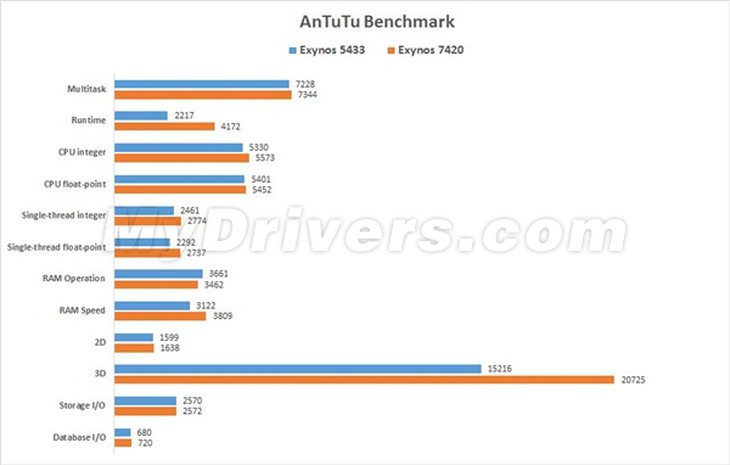 Samsung needed to shake things up with the Samsung Galaxy S6 this year, and the Galaxy S6 Edge benchmarks show they're on the right path in regards to the specs. The 32GB of storage space may indicate the 16GB model is a thing of the past as well, so those "non-removable" battery rumors may be legit for the Edged model if not both.
What do you think of the rumored Galaxy S6 Edge specs so far?
via – Phonearena    source: news.mydrivers