Samsung Galaxy Grand 3 could make it to release soon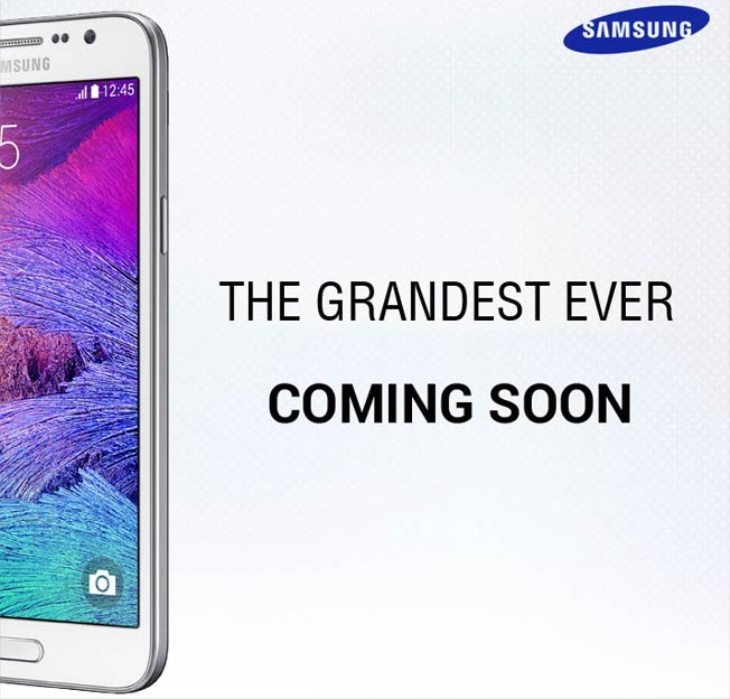 Sometimes in the smartphone and phablet world we hear rumors and leaks about devices, and just as everything looks as though it's ramping up to an official launch it all goes quiet again. That was the case with the Samsung Galaxy Grand 3, which we heard about on a few occasions last year. However, it now looks as though the Samsung Galaxy Grand 3 could finally make it to a release soon.
In November last year we reported on a benchmark spot for the Grand 3 that gave us some of the unconfirmed specs for this handset. Following this, in December the phone then showed up for certification at TENAA, and an appearance here usually means we'll see a device go official soon afterwards. However, the trail dropped off at this point, but now the Galaxy Grand 3 seems to be alive and kicking again.
Samsung India is now teasing the launch of a new Galaxy Grand phone, describing it "The Grandest Ever, Coming Soon" and this looks virtually certain to be the Galaxy Grand 3 at last. A glimpse of a handset in the image fits with leaked images, and we can't think of anything else we've seen in the pipeline that would fit the bill, so all the indicators are looking good.
Specs that arose previously included a 1.2GHz Snapdragon 410 64-bit quad-core processor, Adreno 306 graphics, a 5.25-inch display with resolution of 1280 x 720, 1.5GB of RAM, and 16GB of internal storage (expandable to 128GB). It was also said to have a 13-megapixel rear camera and a 5-megapixel front-facing camera (both with 1080p video capture).
At the time of certification it was running the Android 4.4.4 KitKat operating system, but it's possible (though unlikely) that by the time it releases it could be on Android Lollipop. It's thought that when the Galaxy Grand 3 arrives for sale in India it will be available via Snapdeal, though of course it will also launch for other regions too.
We'll be keeping a close eye on developments with the Grand 3, and going by this Samsung teaser we should be hearing much more very shortly. We'll be sure to let readers know, but in the meantime we'd like to hear if you're waiting for the Samsung Galaxy Grand 3? Your comments are always welcome.
Source: BGR.in