Samsung Galaxy S4, E7 and E5 India price cuts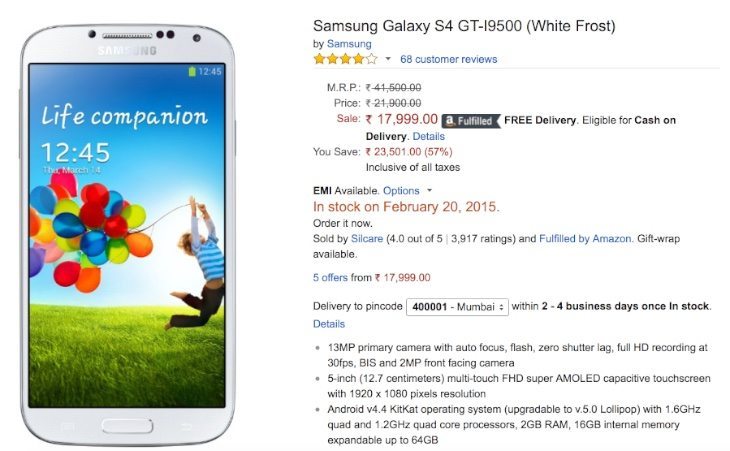 It was only last month that the new Samsung Galaxy E7 and Galaxy E5 were made official for India, and now we have news of pricing cuts for both of these smartphones. The Samsung Galaxy E7 and E5 India price drops may not be huge, but will be welcomed by potential buyers with either of these handsets in their sights. Interestingly the Samsung Galaxy S4 price has also been cut.
At its launch the price of the Galaxy E7 was announced as Rs. 23,000 and the Galaxy E5 was priced at Rs. 19,300. It's a little surprising that we hear of cuts to prices so soon after phones become available but there are now price reductions for the Galaxy E7 to Rs. 20,900 while the E5 is down to RS. 17,900. For those who thought that the phones were overpriced, these price cuts will help to make them a bit more appealing.
As a refresher on specs, the Galaxy E7 has a 1.2GHz quad-core processor, 5.5-inch display with resolution of 1280 x 720, 2GB of RAM, and 16GB of internal storage (expandable). There's a 13-megapixel rear camera, 5-megapixel front-facing camera, and a 2950 mAh battery, and it runs Android 4.4 KitKat. The E5 has a 5-inch display, 1.5GB of RAM, an 8-megapixel rear camera and 2400 mAh battery, with other specs the same as for the E7. Both are hybrid dual SIM handsets.
Meanwhile ahead of the launch of the Samsung Galaxy S6, the Galaxy S4 price for India has also been reduced on Amazon India. Despite the fact that the S4 is nearly two years old it's still a popular buy, and now the price at the giant retailer is down to Rs. 17,999 for the white or black color options. That makes the Galaxy S4 a great deal right now regardless of its age.
We'd be interested to hear what readers think of these latest Samsung Galaxy E5, E7 and Galaxy S4 price cuts for India. Does this news make any of these smartphones a more attractive proposition for you? We always appreciate your comments.
Source: Amazon India (Galaxy E7, Galaxy E5, Galaxy S4)
Via: SamMobile (1)(2)