Meizu MX4 variant will be second Ubuntu phone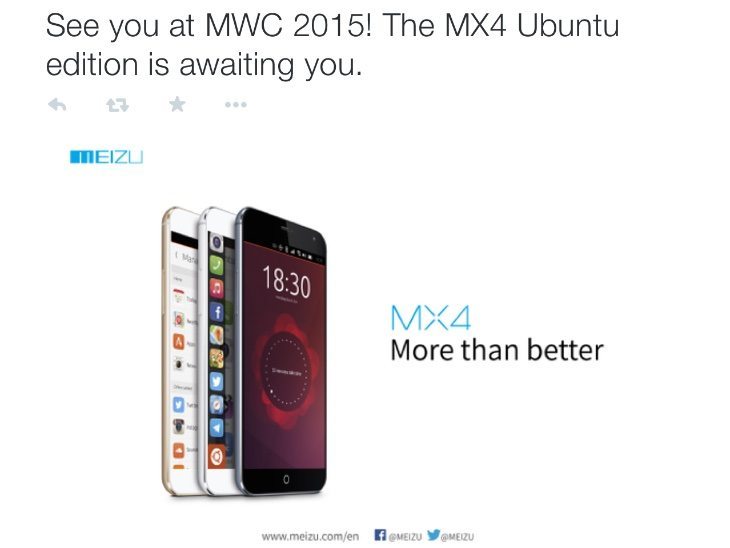 Earlier this month we saw the first Ubuntu smartphone made official in the shape of the BQ Aquaris E4.5. Ubuntu isn't a big name yet as an operating system, but it's always good to see an alternative to the dominant Android and iOS platforms. Now a Meizu MX4 variant will be the second Ubuntu phone to release.
The Aquaris E4.5 is a fairly low-key affair as far as specs go, but the Meizu MX4 Ubuntu Edition will be a higher-end offering. The standard MX4 runs the Android 4.4.4 KitKat-based Flyme 4.0, but there's also a Yun OS variant that's also Android based. Now a teaser image has just been released that shows the MX4 running the mobile Linux OS.
The image carries the tagline MX4 "more than better" although that remains to be seen, but the new version of the phone could certainly appeal to those willing to try out Ubuntu. The Ubuntu Meizu MX4 is set for a reveal at MWC next week, but there's no news yet on a release date or price. However, the price is unlikely to be too different to that of the regular version.
The currently available Android-based MX4 has specs that include a MediaTek octa-core processor, a 5.36-inch IPS LCD display with resolution of 1920 x 1152, 2GB of RAM, and internal storage models of 16, 32, or 64GB. It has a 20.7-megapixel rear camera with dual-LED flash and 2160p video capture, a 2-megapixel front-facing snapper, and a 3100 mAh battery.
It looks as though the MX4 Ubuntu Edition will be internationally available as the image includes the URL for the English Meizu website. Are you pleased to hear that the next Ubuntu handset will be a more premium phone than the first one? Would the Ubuntu Meizu MX4 convince you to try out a phone running this alternative operating system?
Source: Meizu (Twitter)
Via: GizChina