Microsoft Lumia 640 vs Lumia 535 price and specs showdown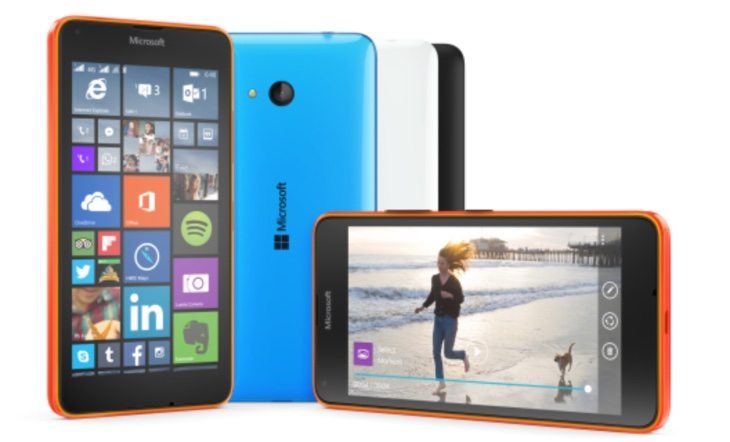 The Microsoft Lumia 640 and larger Lumia 640 XL were both recently introduced and the 640 will release in regions worldwide from April. One of its competitors will be the Lumia 535 that arrived in December and has proved extremely popular in some markets. Today we're looking at the Microsoft Lumia 640 vs. Lumia 535 in a price and specs showdown.
The Lumia 535 that's already available comes in both single SIM and dual SIM models that have 3G connectivity but not 4G LTE. The Lumia 640 comes in a dual SIM model that has 3G but also comes in single SIM and dual SIM 4G LTE versions. Let's check out the key specs and more to see how they compare. For the purposes of this comparison we're looking at the 3G Dual SIM versions of both.
Processors
The Microsoft Lumia 640 has a 1.2GHz Snapdragon 400 quad-core processor and Adreno 305 graphics. The Lumia 535 has a 1.2GHz Snapdragon 200 quad-core processor and Adreno 302 GPU.
Display
Both phones have 5-inch IPS LCD displays. However, the resolution of the Lumia 640 is 1280 x 720 resulting in 294 ppi while the Lumia 535 resolution is 960 x 540 resulting in 220 ppi.
RAM and Storage
Both handsets have 1GB of RAM and 8GB of internal storage that's expandable to 128B via microSD, so there's nothing to split them here.
Camera set-up
The Lumia 640 has an 8-megapixel rear camera with autofocus, LED flash and 1080p video capture, as well as a 1-megapixel front-facing camera. The Lumia 535 has a 5-megapixel rear camera with autofocus, LED flash and 480p video capture, and it also has a 5-megapixel front-facing unit.
Battery
The Lumia 640 has a removable 2500 mAh battery and the Lumia 535 has a removable 1905 mAh battery.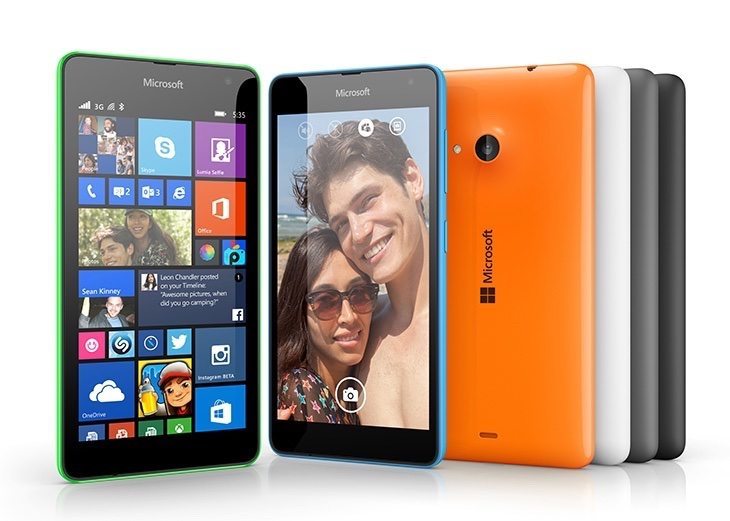 Connectivity
These are both 3G handsets with WiFi 802.11 b/g/n, DLNA and WiFi hotspot, Bluetooth 4.0, GPS and microUSB 2.0. We've already mentioned that the Lumia 640 also comes in a version with 4G LTE.
Operating System
Both phones run Microsoft Windows Phone 8.1 with the Lumia Denim update.
Dimensions and Weight
The Lumia 640 measures 141.3mm x 72.2mm x 8.8mm and weighs 145g. The Lumia 535 (pictured above) measures 140.2mm x 72.4mm x 8.8mm and weighs 146g.
Price
The price of the Lumia 640 3G model has been announced as €140, and that equates to around £100, $152 or Rs. 9,500. However, we should point out that prices may vary according to region, for example one UK retailer has pre-orders open at £149.98. As the Lumia 535 has been on sale for a while, prices differ by region and also retailer. As a guide we can tell you that the Lumia 535 can be found for around £90 in the UK or around Rs. 8,000 in India.
Obviously the difference in pricing where you are might be a deciding factor in any decision between these two phones, but for the Lumia 640 this hasn't been announced for all regions just yet. As far as specs are concerned the extra money paid for the new Lumia 640 will bring you some benefits though.
These include an improved processor, higher resolution display, a better rear camera with higher quality video capture, and a higher capacity battery. If you want the 4G LTE version of the Lumia 640 that adds another advantage but the price for that model is a bit higher at €160. About the only advantage for the Lumia 535 is that is has a 5-megapixel front-facing camera although it does of course also have a lower price.
Usually we'd advise readers to also consider design and build quality and after-sales service but these Lumia designs are pretty similar, and as they are both produced by Microsoft the after-sales service is likely to be the same. When you've had time to absorb the information above we'd be interested to hear from you. Are you more likely to opt for the Microsoft Lumia 640 or the Lumia 535?