Lumia 535 vs Lumia 430, price difference benefits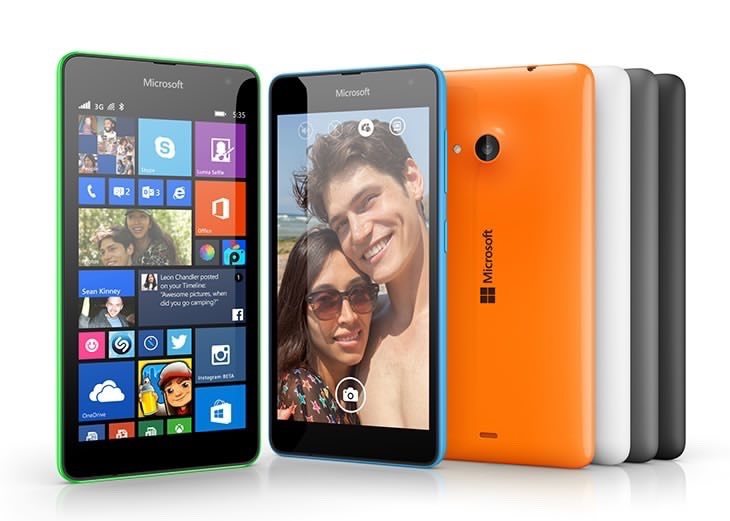 The Lumia 535 released at the end of last year and was the first smartphone to have Microsoft branding rather than Nokia's. This affordable handset has been a big success, particularly in certain markets. Last week Microsoft announced the Lumia 430 Dual SIM that will release in the next few weeks. This is another low-cost smartphone and today we're looking at the Microsoft Lumia 535 vs. Lumia 430 to see the price difference benefits.
The Lumia 535 comes in single SIM or dual SIM models, so we'll be looking at the dual SIM version as the Lumia 430 is a dual SIM handset. Although the 535 is competitively priced it is the more expensive of the two, so it will be interesting to see what more you get for the money for the older phone over the cheaper new Lumia 430.
Processors
The Lumia 535 sports a 1.2GHz Snapdragon 200 quad-core processor while the Lumia 430 has a 1.2GHz Snapdragon dual-core processor. Both have Adreno 302 graphics.
Display
The Lumia 535 has a 5-inch IPS LCD display with resolution of 960 x 540 and 220 ppi. The 430 has a 4-inch display with resolution of 800 x 480 and 235 ppi.
RAM and Storage
There's nothing between them on this score as both have 1GB of RAM and 8GB of internal storage, expandable to 128GB via microSD.
Camera set-up
You'd expect some differences here and the Lumia 535 has a 5-megapixel rear camera with autofocus, LED flash, and 480p video capture, as well as a 5-megapixel front-facing camera. The Lumia 430 only has a 2-megapixel rear camera (no flash) with 480p video capture, and a VGA front-facing unit.
Battery
The Lumia 535 has a removable 1905 mAh battery while the Lumia 430 has a removable 1500 mAh battery.
Connectivity
Both phones support 3G, WiFi 802.11 b/g/n, WiFi hotspot, Bluetooth 4.0, and microUSB 2.0. However, the Lumia 535 also supports DLNA.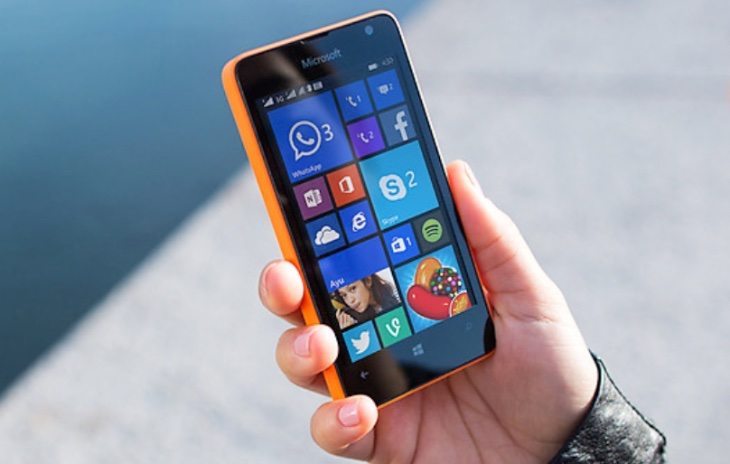 Operating system
Both phones run Windows Phone 8.1 that will be upgradable to Windows 10 at some point.
Dimensions and Weight
The Lumia 535 measures 140.2mm x 72.4mm x 8.8mm and weighs 146g. The Lumia 430 (pictured above) measures 120.5mm x 63.2mm x 10.6mm and weighs 127.9g.
Price
When the Lumia 535 was announced last year its price was set at around $135 before taxes and subsidies. Pricing varied by region but this gives a guideline. In India where dual SIM phones are very popular the price at launch was 9,199. However, it's important to note that because it has been out for a while it can now be found cheaper depending on region and retailer, and we've seen it on sale recently for around Rs. 7,600. The Lumia 430 price has been given as approximately $70 before taxes and subsidies. Prices for individual markets haven't yet been announced but this would equate to around Rs. 4,365.
Both of these are undoubtedly affordable smartphones, but those on a tight budget will appreciate the lower cost of the Lumia 430 when it goes up for sale. If you are willing to pay extra for the Lumia 535 it does have several advantages though. Just a few of the benefits include a quad-core processor, larger display, better camera capabilities, and higher capacity battery. It's also a slimmer handset.
On the other hand, some will like the smaller form factor of the Lumia 430, and it could be a good choice for first time smartphone buyers or for those who want a cheap backup phone. It remains to be seen exactly what the price difference will be for various regions, but this is something buyers will want to take into account of when making a decision between them.
You might also like to check out our recent comparison of the Lumia 430 vs. Lumia 435 and we'll be bringing you more comparisons soon against other Lumia handsets such as the 532, as well as phones from other manufacturers. Do you think you're more likely to buy the pricier but older Microsoft Lumia 535 or the cheaper but newer Lumia 430? We always like to hear from our readers so why not send us a comment.