Samsung Galaxy S6 Dual SIM model gets listed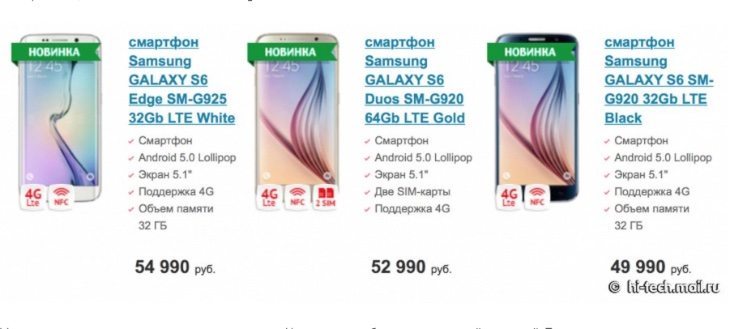 Now here's an interesting snippet of news for a Tuesday morning. The Samsung Galaxy S6 and S6 Edge were recently announced and will release from April 10th. Dual-SIM devices are extremely popular in many regions, and there have previously been reports of a Duos version release for the Philippines. Now though, a Samsung Galaxy S6 Dual SIM model has been listed online, and this is the first time we've seen evidence of it in a listing.
The Galaxy S5 appeared in a Duos model a few months after the standard model released last year. With this in mind we're not exactly surprised to see a dual SIM Galaxy S6, but this is the first time we've seen any concrete evidence of it. The Galaxy S6 Duos with model number SM-G920 appears in a Russian retailer listing along with the single SIM Galaxy S6 and S6 Edge.
The price shown for the Galaxy S6 32GB model is RUB 49,999 while the Galaxy S6 Duos 64GB model is RUB 52,990. The Galaxy S6 Edge is RUB 54,990, and the source has a release date for the phones from April 16th for the Russian market. The price of RUB 52,990 for the dual SIM Galaxy S6 equates to around $908, £608, or Rs. 56,490 at the time of writing, but we need to remember that pricing is likely to vary by market.
While the above leak seems to confirm that a Galaxy S6 Duos version will be available, we should point out that this isn't official from Samsung so we'll be looking for further developments on this. When we hear more you can be sure we'll let readers know. Interestingly, yesterday the Galaxy S6 was launched for India, a big market for dual SIM devices. However, there was no mention of the Duos version for India at the launch.
Are you hoping to get a Samsung Galaxy S6 Dual SIM model? Let us know if you see any listings for a Galaxy S6 Duos where you are by sending your comments.
Source: hi-tech.mail.ru
Via: GSMArena