LG G Pad 7.0, 8.0, 10.1 Lollipop update rolling from today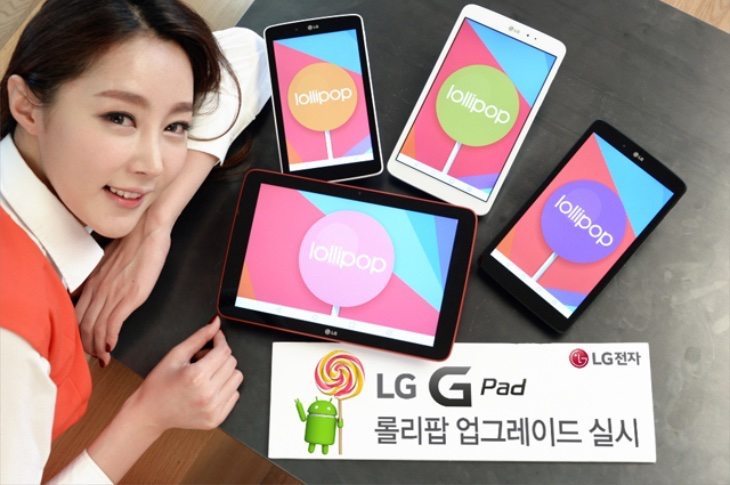 The Android 5.0 Lollipop update has been a very gradual process when it comes to being pushed out to devices, just as previous Android updates before it. LG has already made the update available for the LG G3 flagship smartphone as well as the LG G Pad 8.3 Google Play Edition tablet. Now there's good news for more G Pad owners as the LG G Pad 7.0, 8.0 and 10.1 Lollipop update is to start rolling out from today.
In late March we heard that Lollipop would soon be available for these mid-range G Pad tablets. Now it's reported that the upgrade for the G Pad 7.0, 8.0 and 10.1 will start on April 12. Bear in mind that this is a starting date so it may arrive over the course of several days, with different regions receiving it at different times.
The update to Lollipop brings performance optimizations as well as plenty of new features and improvements such as the new Material Design. Other inclusions are new notifications, enhanced security, new Quick Settings, battery saving feature and more, although it's not clear if LG is bringing anything of its own with the update on top of Android Lollipop.
Lollipop for these G Pads will be available as an OTA (over-the-air) update, and notifications will be received to these devices when they are connected to WiFi. Users should ensure they have at least 40% battery life on their devices before they start downloading the update. It's also reported that the necessary files for the update will be available to download from the LG website.
Do you have the LG G Pad 7.0, 8.0 or 10.1? If so, we'd be interested to hear when you receive the Android Lollipop update to your device, so do drop us a comment in the box below and also let us know which of these devices you have and also your region.
Source: Android Central