Moto E 2nd gen vs original Moto E bootup speed test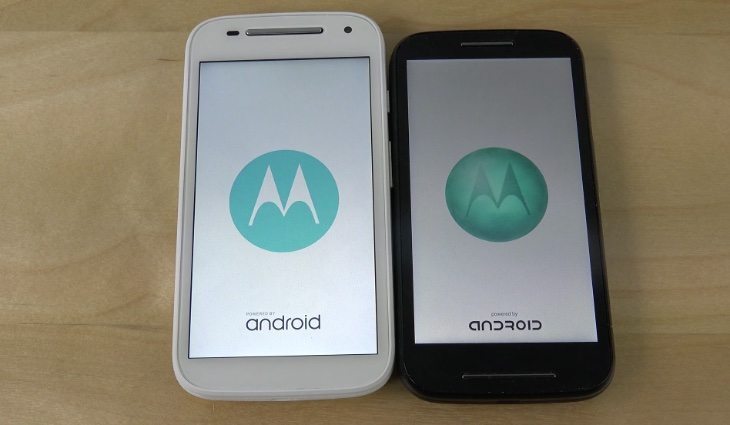 The budget Motorola Moto E smartphone has seen plenty of popularity in various world regions and was recently succeeded by a second-generation model, the Moto E (2015). It can be enlightening to take a look at how older smartphones compare with new versions, so we thought we'd show you a short video today of the Moto E 2nd gen vs. original Moto E in a bootup speed test.
We've previously shared a comparison of these two Moto E models so for more on specs and features you might want to check that out at the above link. However, sometimes it's worth checking out how phones compare in specific aspects, and the video that we've embedded below this article shows a quick informal test of these two phones.
It makes for a nice diversion in a busy day, especially if you're wondering whether to purchase the Moto E 2nd gen or upgrade from the original version. The new Moto E runs the Android 5.0.2 Lollipop operating system while the first-gen Moto E in the YouTube video beneath this story is running the older Android 4.4.4 KitKat OS.
We would certainly expect the 2nd gen Moto E to be the quickest to power up, as it has some improved specs over the original, but is that what happens? The video begins by showing the two handsets alongside each other for a quick comparison of the sizes, and then both are simultaneously powered up to see what one is ready for action first.
Usually when we show bootup tests the difference between speeds of the handsets involved is minimal, but this time around the difference is far more noticeable. We're not going to give the game away by telling you which is fastest here, as you'll see when you watch the test. The video also gives a brief opportunity to get a look at the changes in the user interfaces of the two phones.
It would be interesting to see the bootup speeds compared again when the original Moto E receives its planned upgrade to Android 5.1 Lollipop. In the meantime if you want to see much more on the Moto E 2nd gen you can check out our previous articles on it here. These include comparisons with other phones such as the Moto G 2nd gen and Panasonic P55, battery life testing, reviews and more.
Are you thinking of purchasing the new Moto E for 2015? What are your thoughts on the results of this bootup testing?