Sony Xperia P2 could be international Xperia Z4 offering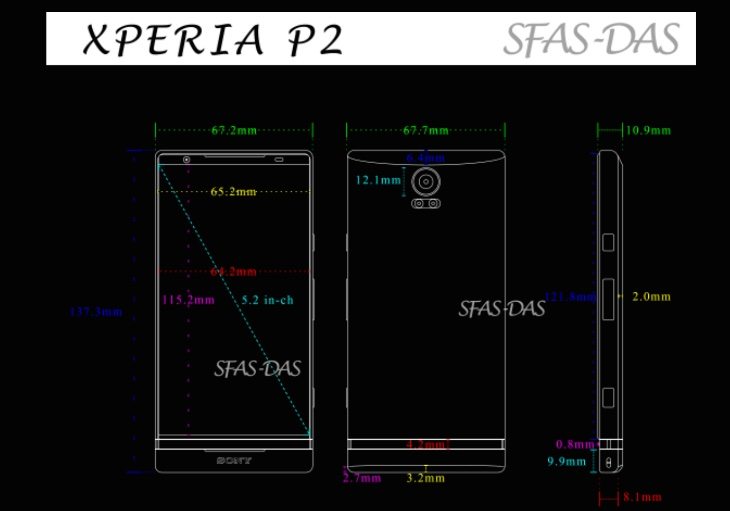 There was a huge amount of anticipation for the Sony Xperia Z4, but when it was eventually announced earlier this month this led to some disappointment. Some felt the specs were not as exciting as hoped for. However, the main concern for many was that we learned the Xperia Z4 would be for Japan only. We then heard of an apparent alternative flagship that would come to other regions that would be based on the Z4. Now it appears that the Sony Xperia P2 could be the Xperia Z4 alternative for international markets.
In our launch article on the Xperia Z4 we told of rumors that this other premium Xperia smartphone could be made official in late May and would have a different name. Now schematics of a new handset have turned up on a Chinese website and it's being tipped as the alternative Z4 offering. It's dubbed the Sony Xperia P2 and those who wanted a new look for the Z4 may be pleased that this new device does have a different design.
The appearance also gives specs on the Xperia P2, with some similarities but also some differences to those of the Xperia Z4. Specs of the P2 include a Snapdragon 810 64-bit octa-core processor, a 5.2-inch TRILUMINOS ISP display with Full HD resolution of 1920 x 1080 (still not Quad HD), 3GB of RAM, and 32GB of internal storage.
The Xperia P2 is also said to have a 12-megapixel rear camera with Sony 25mm F2 G OSS Lens (ISO 64-25600) and 4K video capture, as well as a 5.1-megapixel front-facing snapper. There's also a sizeable 4240 mAh battery and the schematics show that the handset measures 8.9mm at its thinnest point to 10.9mm at its thickest.
Given all of the above it seems very plausible that the Sony Xperia P2 detailed here is in fact the alternative Z4 offering for international regions, but we must point out that this is all unconfirmed at this stage. We'll be waiting to hear more though and will bring further news as we hear it. Do you like the sound of the Sony Xperia P2 and hope this is the premium device heading to further markets? Let us have your comments.
Source: STJS Gadgets Portal
Via: Phone Arena