Samsung Galaxy Grand Prime vs Core Prime bootup speeds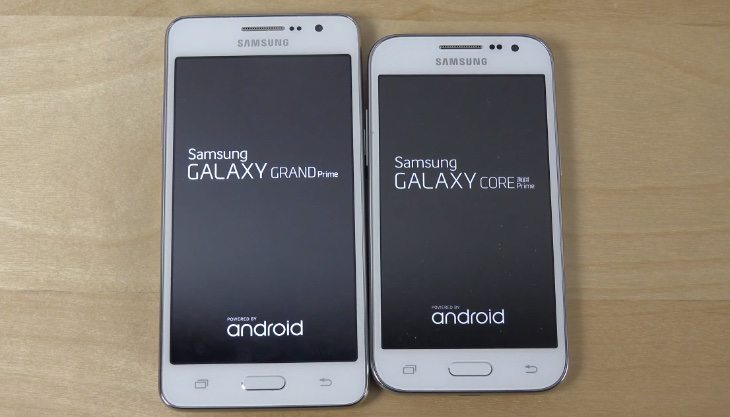 Samsung is known for the amount of smartphones and different variants of them that it produces, and it can be interesting to see how some of them compare. We do a lot of specs comparisons at Phones Review, but sometimes it can also be interesting to focus on one specific factor. Today we're showing a Samsung Galaxy Grand Prime vs. Core Prime bootup speed test.
There are a lot of similarities between these two Samsung smartphones that are both more affordable mid-range devices. They both released in the later part of last year and also share many specs including a 1.2GHz Snapdragon 410 quad-core processor, Adreno 306 graphics, 1GB of RAM, and 8GB of internal storage (expandable to 64GB via microSD).
Both released running the Android 4.4.4 KitKat operating system and the Galaxy Grand Prime has a 5-inch display with resolution of 960 x 540 while the Galaxy Core Prime has a 4.5-inch display with resolution of 800 x 480. With so much in common it will be interesting to see how their bootup speeds compare, and to show this we've embedded a video from YouTube below this article.
It begins with showing both handsets side-by-side and then they are simultaneously powered up to see which one is ready for action first. We don't want to spoil the suspense of seeing the outcome in the video so we're not going to tell you the winner, but we will say there's not too much in it. The reviewer also heads into Settings and About Phone to show that both are indeed running the same version of Android.
The brief video also gives us a look at the user interfaces, and it's pointed out that the Galaxy Grand Prime appears to be in line for the Android Lollipop update at some point although the situation is less clear for the Core Prime. However, we should say that we have seen reports that the Core Prime will also be updated to Lollipop, although this hasn't been officially confirmed.
Readers who enjoyed this informal speed test may also like to see a recent bootup test that we showed of the Galaxy Grand Prime vs. the new Samsung Galaxy S6 flagship. Meanwhile if you have any thoughts about the video below showing the test on the Galaxy Grand Prime vs. Galaxy Core Prime, let us have them in the comments box below.