Huge Huawei and Xiaomi 2015 Roadmap leaks reveals new devices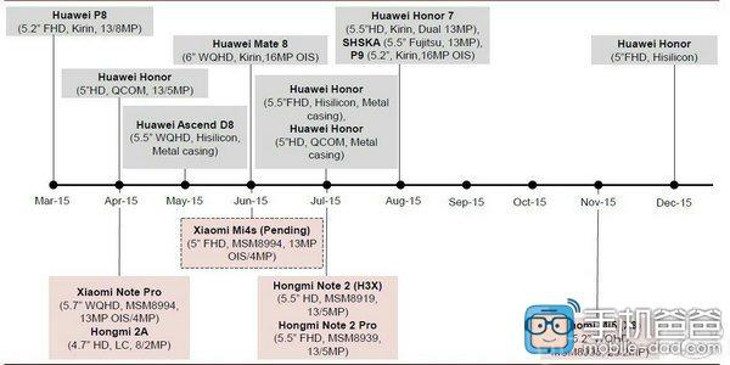 We see all types of leaks in the wild world of smartphones, and occasionally we'll get something called a "Roadmap" leak. These rarities provide a wealth of information, and we just got a doozy today that shows a slew of upcoming devices from Huawei and Xiaomi.
Roadmap leaks are a great way to learn information about a company's product lineup for the coming year, and the last one we got a look at came in January. That one was from Huawei, and it showed a new smartwatch, tablets, and smartphones. The new leak delves back into Huawei's tech, but also spills the beans on several upcoming devices from Xiaomi as well.
According to the leak, Xiaomi has four new products in the works at the moment. The Xiaomi Note Pro and Hongmi 2A are listed for April, with nothing set to in May. For June, there is a Xiaomi Mi4s listed with a 5-inch FHD display and 13MP/4MP camera combo, but it has "pending" so the date could change. The Hongmi Note 2 (H3X) and Hongmi Note 2 Pro are set for July, and November will bring the Xiaomi Mi5 to the fold with a 20.2MP snapper.
As for Huawei, it's all about the Honor. The P8, Honor, and Ascend D8 take care of April-May with the Huawei Mate 8 listed for June. In August, there is a Huawei Honor 8 in two different flavors and the P9 with a 16MP snapper and Kirin chip. Right before Christmas is another "Huawei Honor" smartphone with a 5-inch FHD display and Hisilicon chip.
You'll obviously want to the take the Xiaomi and Huawei Roadmap leak with a dose of salt for the moment. That said, we won't have to wait long to find out how accurate it is considering there are several devices slated to arrive this month.
What do you think about Huawei and Xiaomi's plans for 2015 so far?
via – Gizmochina    source: Mobile-Dad