Asus Zenfone 2 US prices for 4GB and 2GB RAM models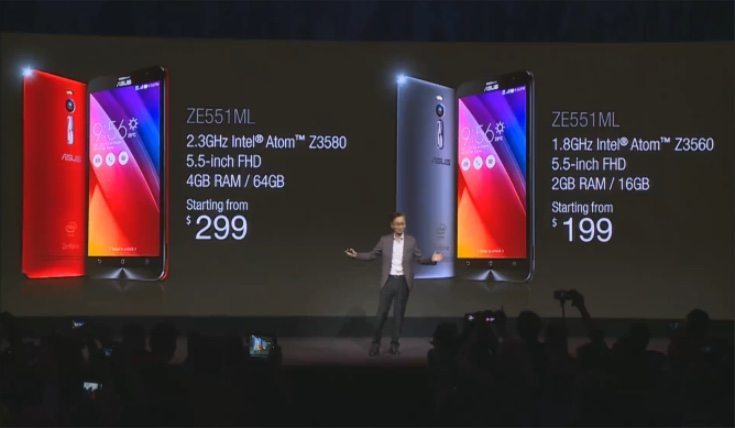 The Asus Zenfone 2 has been creating a stir since its release in March for some markets. This smartphone combines highly competitive pricing with very decent specs and it comes in several different models and variants. Now the Asus Zenfone 2 US prices for the 4GB and 2GB RAM versions has finally been unveiled.
We were pretty excited to hear of the US launch event for the Zenfone 2, but it wasn't clear exactly which models would be available stateside. All doubt has now been removed though, and it's the Zenfone 2 ZE551ML that will be available, in both the 2GB and 4GB of RAM variants.
Both are available from today at incredible reasonable prices. We'll begin with the lesser 2GB of RAM version to build up the suspense for the superior variant! The Asus Zenfone 2 ZE551ML with 2GB of RAM has a no-contract price of only $199. For that you'll get a 1.8GHz Intel Atom Z3560 quad-core processor, and a 5.5-inch display with Full HD resolution of 1920 x 1080.
There's 16GB of internal storage (expandable to 64GB via microSD), and the phone has a 13-megapixel rear camera with dual-LED flash and 1080p video capture, a 5-megapixel front-facing snapper, and a non-removable 3000 mAh battery. Connectivity options include LTE, WiFi 802.11 a/b/g/n/ac, Bluetooth 4.0, NFC and GPS.
Alternatively the Asus Zenfone 2 4GB of RAM version is $100 extra with an unlocked price of $299. This one steps up to a 2.3GHz Intel Atom Z3580 quad-core processor and 64GB of internal storage. Other specs are the same as for the 2GB RAM variant, and both of these run the Android 5.0 Lollipop OS skinned with the Asus Zen UI.
You can read much more about the Zenfone 2 in our previous articles here. These include reviews, benchmarks, comparisons and more. Are you about to snap up the Asus Zenfone 2 in the US or Canada? Will you opt for the version with 2GB or 4GB of RAM?
Source: Asus
Via: Android Police