Galaxy S6 vs LG G4 speed testing winner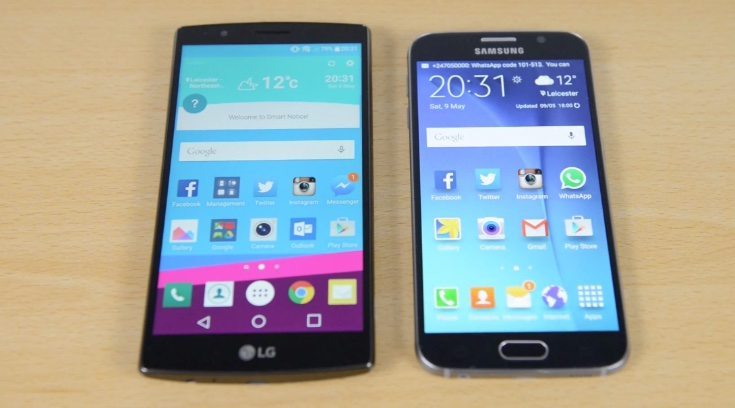 Two new flagships that have been recently introduced are the Samsung Galaxy S6 and the LG G4. These will be dominant Android smartphones over the coming months, and some buyers could be undecided between the two. With that in mind we thought it would be a good idea to share some Galaxy S6 vs. LG G4 speed testing to see how they compare in this regard.
We've already shown these two phones against each other in a hands-on look, a camera comparison, and also a video focus on the advantages of each. This time we're taking a look at another aspect, and the speeds of a device affect everyday use so this should be interesting. Beneath this article we've positioned a YouTube video from SuperSaf TV for your viewing convenience, but before we get to the video it's worth refreshing ourselves on some of the key specs of each.
The Galaxy S6 has an Exynos 7420 octa-core processor with four cores at 2.1GHz and four at 1.5GHz, Mali-T760MP8 graphics, a 5.1-inch Super AMOLED display with Quad HD resolution of 2560 x 1440, and 3GB of RAM. Alternatively the LG G4 has a Snapdragon 808 hexa-core processor with two cores at 1.82GHz and four at 1.44GHz, Adreno 418 graphics, a 5.5-inch IPS LCD display with Quad HD resolution, and also 3GB of RAM.
The video comparison below shows a variety of speed tests and begins with the results of a Geekbench benchmark test where in both single-core and multi-core performance the Galaxy S6 came out on top. However, what the video aims to illustrate is whether that translates to actual usage. The first test shown is a basic bootup speed test and there's a clear winner, although from here on we won't give the results so that we don't spoil your enjoyment of the video.
The next test shows which of the handsets is quickest to unlock, and the comparison goes on to show app opening speeds, a browser test, and also some games being loaded up. The final test shows the camera app being opened to see which is first. There are some mixed results but in the majority of the testing we find the same winner. However, it's worth pointing out that on many occasions the time difference is small and so there's unlikely to be a significant disparity in everyday usage.
Nevertheless it's an interesting comparison to watch, and when you've checked it out we'd like to hear from you. Did you guess which would be the winner in speed testing between the Samsung Galaxy S6 and the LG G4?