Microsoft Lumia 940 plausible benchmark gives specs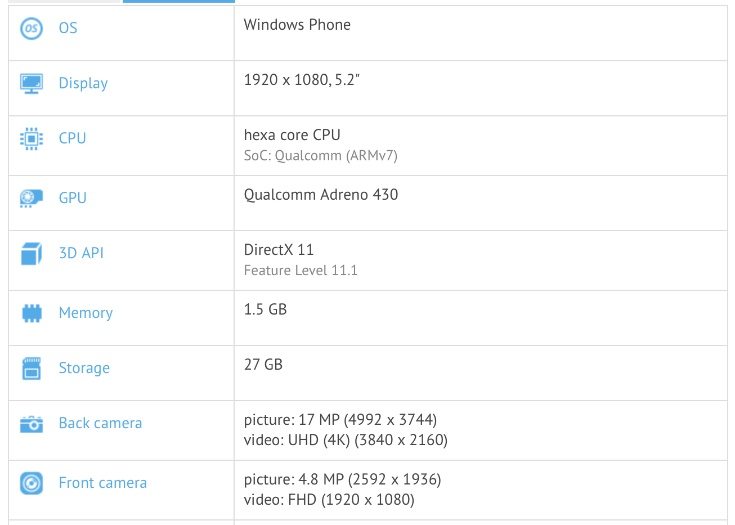 There's a massive amount of anticipation for new high-end Lumia handsets, and we've seen a growing amount of news and rumors for Microsoft Lumia 940 and also a Lumia 940 XL. Just a few days ago we heard more unconfirmed news with a specs leak, and now the Microsoft Lumia 940 is the subject of a plausible benchmark that also gives specs.
In our previous article on the Microsoft Lumia 940 specs and the 940 XL, some claimed details had emerged from so-called insider sources at Microsoft. A new Lumia phone with model number RM-1106 has now been spotted in a benchmark filing. While the Lumia 940 name isn't given, the specs largely tally with many that have previously leaked. This suggests the RM-1106 is indeed the Microsoft Lumia 940.
Specs revealed by the GFXBench appearance of a Windows Phone device include a Snapdragon hexa-core processor, and also Adreno 430 graphics. The benchmarking for 3D graphics performance of the RM-1106 shows 1.5GB of free RAM, which suggests the 3GB of RAM that was previously rumored. It also lists 27GB of free storage, and this would tie in with the expected 32GB of internal storage.
Other specs revealed include a 20-megapixel rear camera with 4K video capture, as well as a 5-megapixel front-facing snapper with 1080p video capture. The display size is given as 5.2-inches with resolution of 1920 x 1080. Previously the screen has leaked with the same size given but Quad HD resolution of 2560 x 1440. However, NokiaPowerUser suggests that phone will still have QHD resolution as the benchmark shows a crop.
Given that so much of this tallies with earlier leaks it looks pretty certain that the RM-1106 is indeed the Microsoft Lumia 940. Nothing has shown up in benchmarking for the rumored larger Lumia 940 XL yet though. This is thought to have many of the same specs but with a 5.7-inch display and stepping up to an octa-core processor instead of hexa-core.
While we still have to treat the above information as unconfirmed, we hope that the growing amount of information we are hearing about the Lumia 940 means that we'll learn something official before too much longer. Do you like what you've heard so far about the upcoming Microsoft Lumia 940 specs?
Source: GFXBench
Via: NokiaPowerUser