LG G4 vs LG G3 vs G Flex 2 bootups compared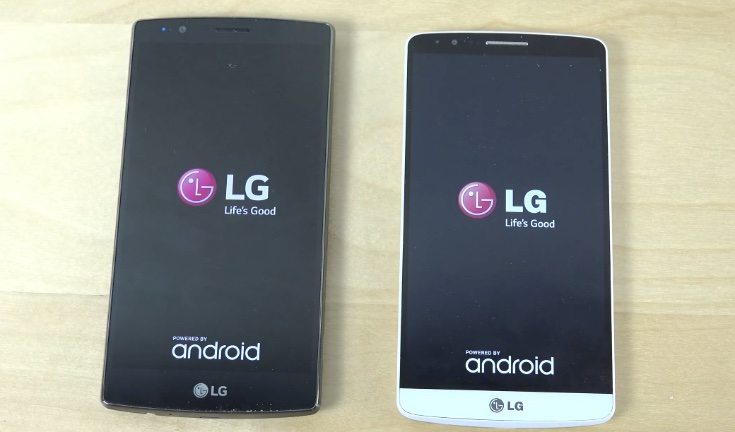 The LG G4 is making a splash right now as the company's latest flagship, and many will be comparing it with last year's LG G3 and also the LG G Flex 2 that arrived earlier this year. Sometimes though it can be interesting to focus on one particular factor of a phone, so today we're taking a look at LG G4 vs. LG G3 vs. G Flex 2 bootup speeds compared.
The LG G4 is powered by a Snapdragon 808 hexa-core processor (with two cores at 1.83 GHz and four at 1.44GHz) while the G3 has a 2.5GHz Snapdragon 801 quad-core processor. The LG G Flex 2 has a Snapdragon 810 octa-core processor (four cores at 2GHz and four at 1.5GHz). Given the differences in age, specs, and operating system versions of these smartphones, we wonder how much that will affect an everyday aspect of usage such as bootup speeds.
Under this article you can see two videos that illustrate exactly this. The first YouTube look shows the LG G4 vs. LG G3 in an informal boot up test. The G4 is running Android 5.1 Lollipop while the G3 is running the older Android 5.0 version. The reviewer powers up both handsets simultaneously and one is clearly faster to start up than the other, despite the fact that the winner shows some lag. We're not going to tell you the victor here or it could spoil your enjoyment of the video.
After the test the reviewer then shows some of the differences between the two versions of the operating system on these devices. These include changes in Settings, the dialer, camera UI and more. The next YouTube video shows the same kind of test, but this time with the LG G4 and LG G Flex 2. The G4 is running Android 5.1 as before, while the G Flex 2 is on Android 5.0.1 The phones are shown alongside each other and again powered up at the same time to see which is ready for action first.
Just as with the first test we're not going to give away the winner. You can see both results when watching the videos below. You might also like to check out some previous testing of the same type with the LG G4, Samsung Galaxy S6 Edge, and HTC One M9. Why not send us your comments about the bootup results of the LG G4 vs. LG G3 vs. LG G Flex 2.
https://www.youtube.com/watch?v=lqyUF-YkaNo://
https://www.youtube.com/watch?v=qn0OSeSO_nQ://