Zenfone 2 4GB RAM vs OnePlus One, speed test winner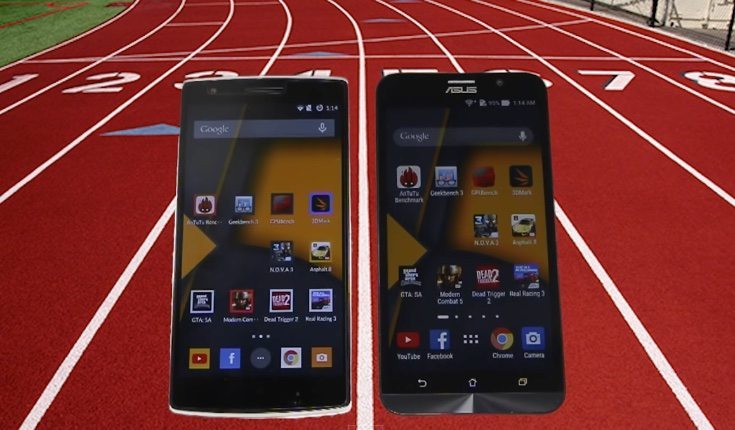 The Asus Zenfone 2 has been attracting quite some attention since its recent launch, especially the variant with 4GB of RAM. Another popular Android device since it released last year is the OnePlus One, and we've already shown these two against each other in a bootup test. This time around we're sharing a video showing the Zenfone 2 4GB RAM vs. OnePlus One in what is described as an ultimate speed test.
The Zenfone 2 comes in several different models, and one of those is ZE551ML. This one is available in options of 2GB or 4GB of RAM, and the one used in this testing is the 4GB RAM variant. Other key specs of this version are a 2.3GHz Intel Atom Z3580 quad-core processor, PowerVR G6430 graphics, and a 5.5-inch IPS LCD display with resolution of 1920 x 1080.
The OnePlus One has the same display size and resolution, and other specs are a 2.5GHz Snapdragon 801 quad-core processor, Adreno 330 graphics, and 3GB of RAM. Like the Zenfone 2 this quickly gained a reputation for combining decent specs with competitive pricing, so comparing speeds should be interesting. Beneath this article we've embedded a YouTube video from L BS that takes a good look at the speeds of both handsets and aims to find out which is the king of performance!
You'll see both handsets alongside each other and being put through their paces. Various activities include opening apps, loading games, benchmarking (including Geekbench 3 and AnTuTu), and more. Along the way you'll see points racked up for which is the fastest each time. Sometimes the time difference is barely noticeable but on other occasions the gap between the two is clearer.
Nearer the beginning this looks as though it's going to be a pretty tight race, but as the testing progresses a clear speed winner emerges. We're not going to ruin the suspense by telling you the victor here, as you will find out when you watch the speed testing for yourself. You might like to try to guess the winner before you check it out.
On another note it's worth pointing out that the OnePlus Two is also expected to launch within the next few months, and it would be really interesting to see this speed test performed again with the new device. After you've checked out the video below we'd appreciate your comments. Did you pick the right winner from the Asus Zenfone 2 and OnePlus One in this speed comparison?