Asus Zenfone 2 vs OnePlus One bootup speeds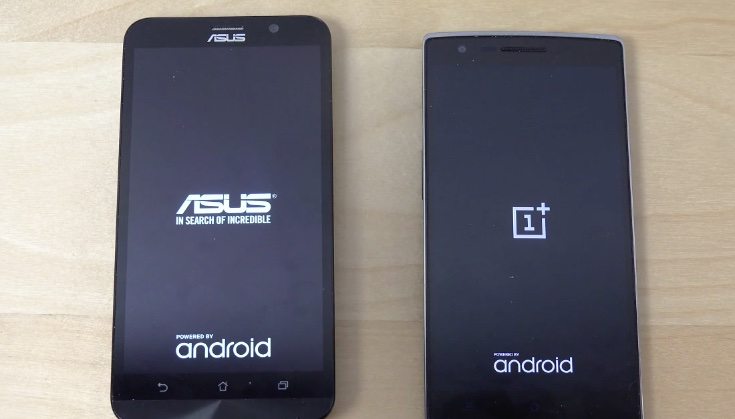 There are a growing number of competitively priced smartphones at the moment, and a recent addition is the Asus Zenfone 2. One of the devices it will compete against is the OnePlus One, dubbed a flagship killer when it launched last year. Today we're focusing on one particular factor of these handsets and looking at Asus Zenfone 2 vs. OnePlus One bootup speeds.
We've previously shared a video showing bootup testing on the Samsung Galaxy S6 vs. Zenfone 2, and also recently the Zenfone 2 vs LG G4 in speed testing. The Asus Zenfone 2 comes in several different versions, and the one attracting most of the attention is the 4GB of RAM variant of model ZE551ML. Other key specs of the Zenfone 2 4GB RAM version are a 2.3GHz Intel Atom Z3580 quad-core processor, PowerVR G6430 graphics, and a 5.5-inch IPS display with Full HD resolution of 1920 x 1080.
On the other hand the OnePlus One is powered by a 2.5GHz Snapdragon 801 quad-core processor, with Adreno 330 graphics, and 3GB of RAM. Like the Zenfone 2 it also has a 5.5-inch display with Full HD resolution. Sometimes rather than a full comparison it can be interesting to see how devices compare for what seems like a minor aspect but in fact involves everyday usage.
The YouTube video that we've embedded beneath this article shows a bootup speed test involving these two handsets. The Asus Zenfone 2 4GB RAM model is shown on the left with the OnePlus phone on the right. The comparison begins by giving us a look at the two phones and the reviewer notes that the OnePlus One unit being used here is running the Oxygen OS, which is based on Android Lollipop 5.0.2. The Asus Zenfone 2 launched on Android 5.0 Lollipop with the company's Zen UI.
The phones are then simultaneously powered up to see what one is ready for use first. We won't ruin the suspense by telling you the result here, but we will say that we were surprised at quite how much quicker one device was than the other in booting up. The reviewer goes on to show some of the differences in the user interfaces of these handsets and how they contrast in this respect.
When you've checked out the video below it would be good to hear your thoughts on this bootup speed testing with the Asus Zenfone 2 and OnePlus One. Are you surprised at the outcome of the test and the notable differences in speeds between these two devices? Let us have your comments.
https://www.youtube.com/watch?v=o4-xPtKbx9E//