Oppo Mirror 5 photos show a slick unannounced smartphone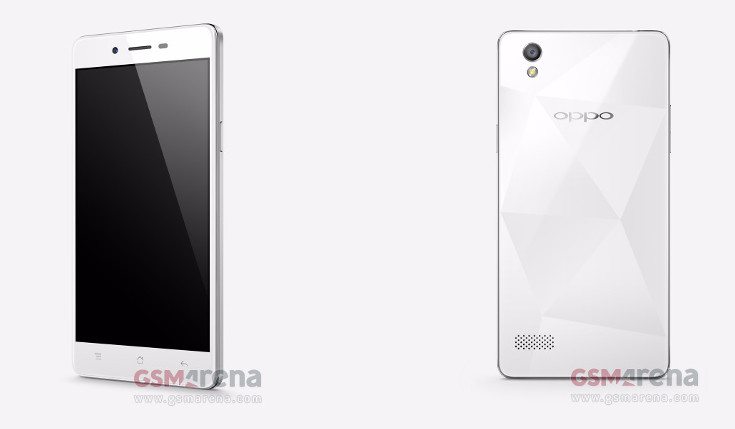 Oppo is known for making slick looking smartphones, and a new one has just crossed our radars. The Oppo Mirror 5 may share a few traits with the previous model, but ups the ante when it comes to the specs.
We covered the Oppo Mirror 3 back in January when it was announced with a Snapdragon 410 and a small 4.7-inch display. The Oppo Mirror 5 is the follow-up to that device, and while we don't know the display size, the photos speak for themselves. It's a looker, and the back panel is something fans of the Oppo R1x will certainly recognize.
Looks aside, the rumored Oppo Mirror 5 specs should put it on the good side of the mid-range sector. The device is said to come with 2GB of RAM and 16GB of internal storage — double what's under the hood of the Oppo Mirror 3. The processor wasn't mentioned, but one would assume it will be faster that the Snapdragon 410. Maybe the Snapdragon 808 we've seen so much this year?
The Oppo Mirror 5 will have the usual bells & whistles in the connectivity department, so Wi-Fi, Bluetooth, and GPS are all locks along with 3G and LTE variants, which will vary by market. As for the cameras, the rear camera is said to be 5MP with Beatify 3.0, and the rear camera will use an unnamed sensor with PureImage 2.0 tech. The details may be light, but so far… so good.
The folks over at GSMarena obtained the scoop on the Oppo Mirror 5, and they expect an official announcement soon. The device is set to debut in Taiwan before a rollout to other regions, and the Oppo Mirror 5 release date is said to fall at the end of June or in early July.
What do you think of the Oppo Mirror 5 so far?
source –  GSMarena