Motorola Droid Kinzie specs show up in benchmarking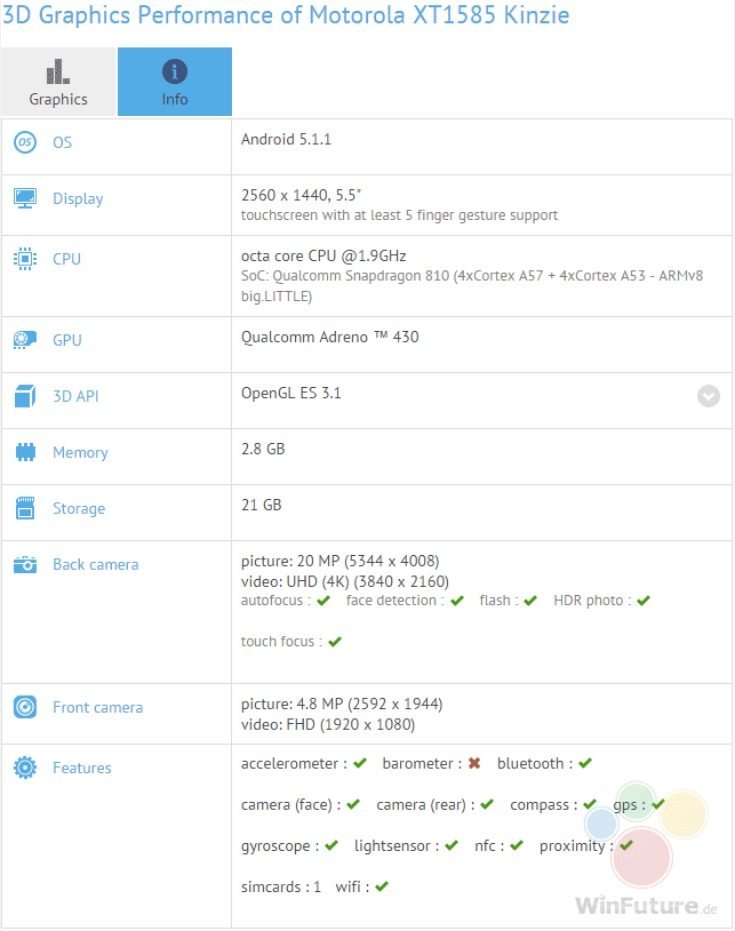 A smartphone dubbed the Motorola Droid Kinzie has just made an appearance in benchmarking and this has given us some specs of the upcoming device. This backs up some of the previously rumored specs although the display is larger than first suggested. This smartphone, along with another codenamed the Motorola Droid Clark, is heading to Verizon.
Regular Phones Review readers may remember that we first reported on these two new Droid handsets last month. Both were tipped to have Quad HD resolution displays and running the Android 5.1.1 Lollipop operating system. The Droid Clark was rumored to include a Snapdragon 808 chipset while the Droid Kinzie would have the Snapdragon 810. Now the Motorola Droid Kinzie with model number XT1585 has been spotted on the GFX benchmark site.
Specs shown for the Motorola Droid Kinzie are a 1.9GHz Snapdragon 810 octa-core processor (tying in with those earlier rumors), and Adreno 430 graphics. It has a 5.5-inch display with QHD resolution of 2560 x 1440 resulting in 534 ppi. This differs from the earlier leak which suggested a much smaller display size of around 4.6-inches.
Further specs revealed from the benchmark are 3GB of RAM and 32GB of internal storage. It's running Android 5.1.1 and has a 20-megapixel rear camera and 5-megapixel front-facing unit. Because of the change in screen sizes the Motorola Droid Kinzie now looks to be the larger of these two new Droids, as the Droid Clark was rumored to have a 5.2-inch display.
While the phone hasn't been made official yet, with the kind of specs shown here the Motorola Droid Kinzie is looking as though it will be a beast of a phone. It's likely that many people will want to lay their hands on it following the popularity of the high-end Motorola Droid Turbo last year. There's still no news on when these two upcoming new Droids will release on Verizon, but with the new benchmark sighting at least one of them looks to be a step closer.
Are you itching for these two new Motorola Droid smartphones to be made official? What are your thoughts on the specs shown in benchmark testing for the Motorola Droid Kinzie? Let us have your comments on this.
Source: winfuture.de
Via: Phone Arena