iPhone 6 official iOS 8.4 vs Galaxy S6 Edge bootup speed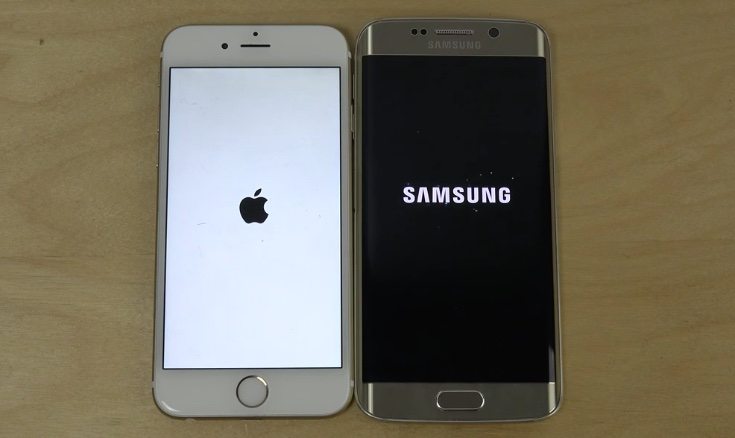 If you have an iOS device you will probably already know that Apple's iOS 8.4 made it to a public release yesterday. This has been in beta for a while now, so it's good to see the final build arrive heralding the new Apple Music service. We often look to see how rival platforms compare in particular aspects, and today we're looking at the iPhone 6 on official iOS 8.4 vs. Galaxy S6 Edge in a bootup speed test.
Back in May we showed some Internet and bootup speed tests between the iPhone 6, iPhone 6 Plus, Samsung Galaxy S6, and Samsung Galaxy S6 Edge. At that time the iPhone 6 was running an iOS 8.4 beta while the Galaxy S6 Edge was on Android 5.0.2 Lollipop. In the bootup test we showed then, the Galaxy S6 Edge was faster to boot up than the iPhone 6. However, that wasn't with the final version of iOS 8.4 so it will be interesting to see if there's a similar result or whether there will be a new winner this time around.
We've positioned a YouTube video from regular YouTuber Adrianisen below this article for you to take a look at. This time you'll see the iPhone 6 on the official iOS 8.4 release up against the Galaxy S6 Edge on Android 5.0.2 again. By the way the reviewer notes that he wanted to use Android 5.1 on the Samsung handset but couldn't do so.
At the beginning of the video you'll see both phones simultaneously powered up to see which is up-and-running first, and if you're like us you'll be intrigued to know what the outcome is this time. If you think we're going to tell you the winner here, think again! We wouldn't want to spoil the suspense for when you check out the video below.
After the test the reviewer then gives a brief look of how else they compare, showing the different user interfaces, opening up some apps, etc. Of course now that iOS 8.4 has arrived, attention is already turning to the next major upgrade that will release later this year, and iOS 9 is already in beta. Give us your thoughts on how the bootup speeds of the iPhone 6 and Galaxy S6 Edge compare by dropping us your comments in the box below.
https://www.youtube.com/watch?v=TwgC4PqJt3I://