Samsung Galaxy Note 4 sale knocks $200 off for US customers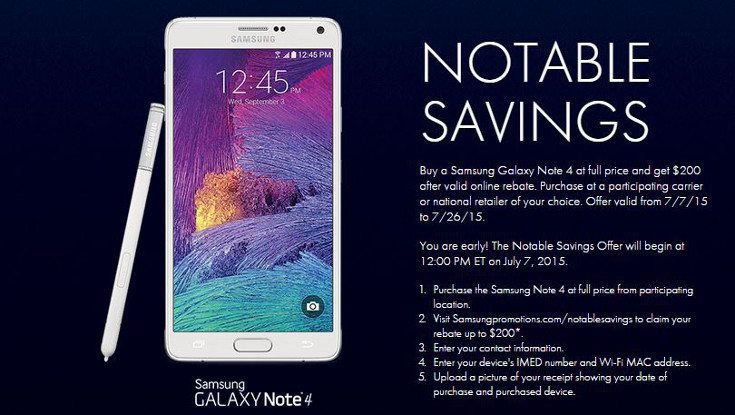 We love a good promo as much as anyone, and today there's a doozy for consumers in the states. A new Samsung Galaxy Note 4 sale has just kicked off, and it's offering up a significant price cut for a limited time.
The Samsung Galaxy Note 4 sale comes courtesy of Sammy's new "Notable Savings" promo, and it is coming a few months out from the launch of the Galaxy Note 5. It's a move that makes sense considering the next-gen Note is right around the corner, and if you're located in the US you'll be able to save $200 bucks on the purchase of the Note 4.
As with any deal, there are some conditions to the Samsung Galaxy Note 4 sale. You can pick up the device from any "participating" carrier or retailer you choose, but you'll have to buy it at the unlocked price. Once you have your new handset in hand you simply need to register with Sammy and give them proof of purchase to take advantage of the rebate.
The Samsung Galaxy Note 4 sale is only good from today through July 26th and it's definitely something to consider if you passed on the Note 4 when it was initially released. The Galaxy Note 5 is rumored to bring some big changes to the table when it arrives, and they may not go over so well with the fans. If you're interesting in Sammy's Notable Savings promo, hit up the link below for more details.
via — Android Police