Moto G 2nd gen India price slash for big saving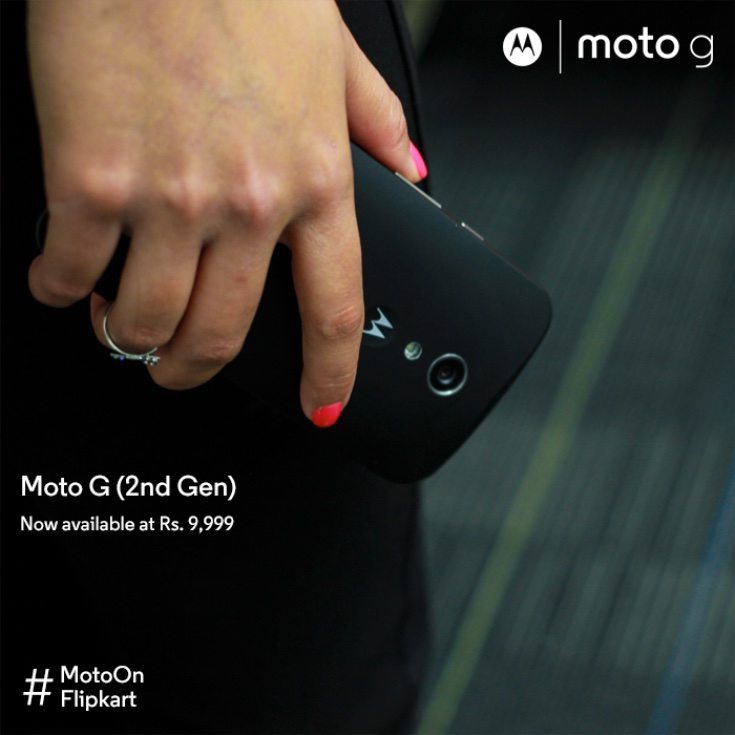 The Motorola Moto G 2nd gen released last year and has been an immensely popular smartphone. Now there has been a Moto G 2nd gen India price slash that offers a big saving of Rs. 3,000. Recently there have been rumors about a Moto G 2015, but the second-generation model still has plenty to offer for many buyers.
The Moto G 2nd gen originally launched with a price of Rs. 12,999, and though there have been occasional price cuts this is the first time that the phone has had its price permanently reduced. This pricing is at Flipkart and Motorola India announced the news on its Facebook page saying, "Surprise surprise! The brand new Moto G can be yours at just Rs. 9,999."
We've seen several popular devices receiving price cuts lately, and the Moto G 2nd gen at Rs. 9,999 now gives it the same pricing as the Lenovo K3 Note, which is seeing a massive amount of interest right now. However, we'll point out that the K3 Note has 4G LTE connectivity while the Moto G 2nd gen on offer is the 3G version of the phone.
Other handsets that have received recent price cuts in India include the Huawei Honor 6, Xiaomi Mi4, Redmi Note 4G, and from today the Redmi 2. As a brief recap of the 2nd gen Moto G we'll tell you that it has a 1.2GHz Snapdragon 400 quad-core processor, 5-inch display with resolution of 1280 x 720, and 1GB of RAM. There's an 8-megapixel rear camera, 2-megapixel front-facing camera, and a 2070 mAh battery. It launched on Android 4.4.4 KitKat and has been upgraded to Android Lollipop.
To see much more about the Moto G 2nd gen you might like to take a look at some of our previous articles on this smartphone at the link. These include reviews and specs comparisons with many other handsets including the Xiaomi Mi 4i, Microsoft Lumia 640 and many others. It will be interesting to see how the Moto G 2nd gen and Lenovo K3 Note will compete against each other considering the new lower price of the Motorola phone.
Via: NDTV Gadgets